Thomas Jefferson High School


Class of 1964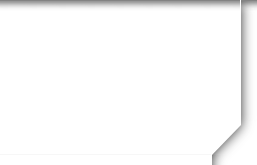 Did you know?...
Did You Know...The Tee Jay Football Team Has Won the 2019 Regional Championship?!! If you're around, you may want to attend the semi-final game for state championship at 1:00 pm next Saturday, Dec 7, 2019, at Stuart's Draft H.S., 1028 Augusta Farms Rd, Stuart's Draft, VA.
Go Vikings!!!
Did You Know...Or, more accurately, Do You Remember? "Oklahoma" -- our amazing senior operetta? Check out the program below, circa 1964 (courtesy of Dave Satterfield '64):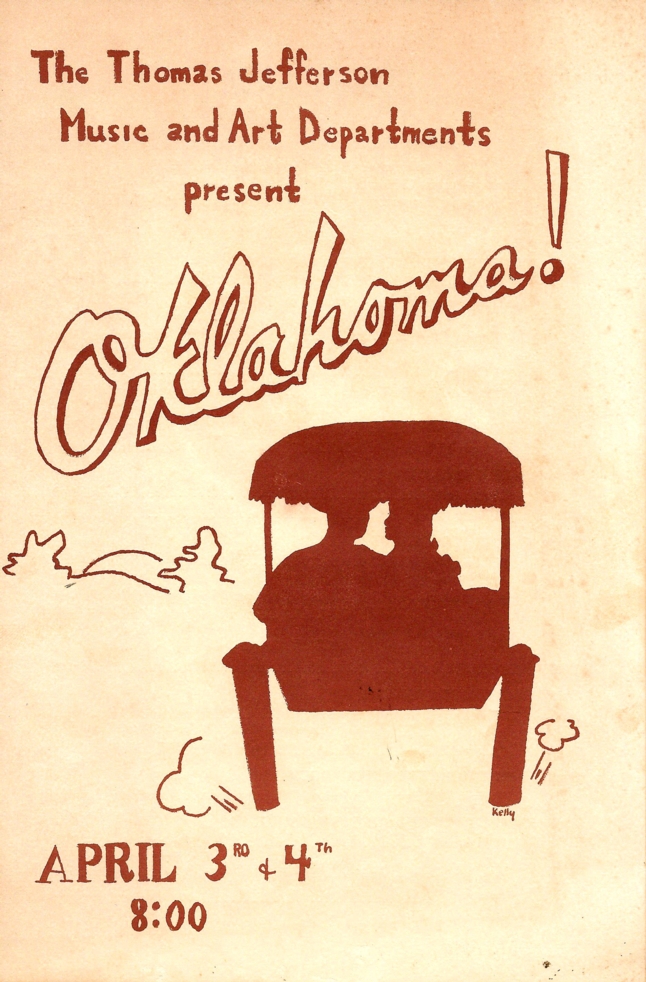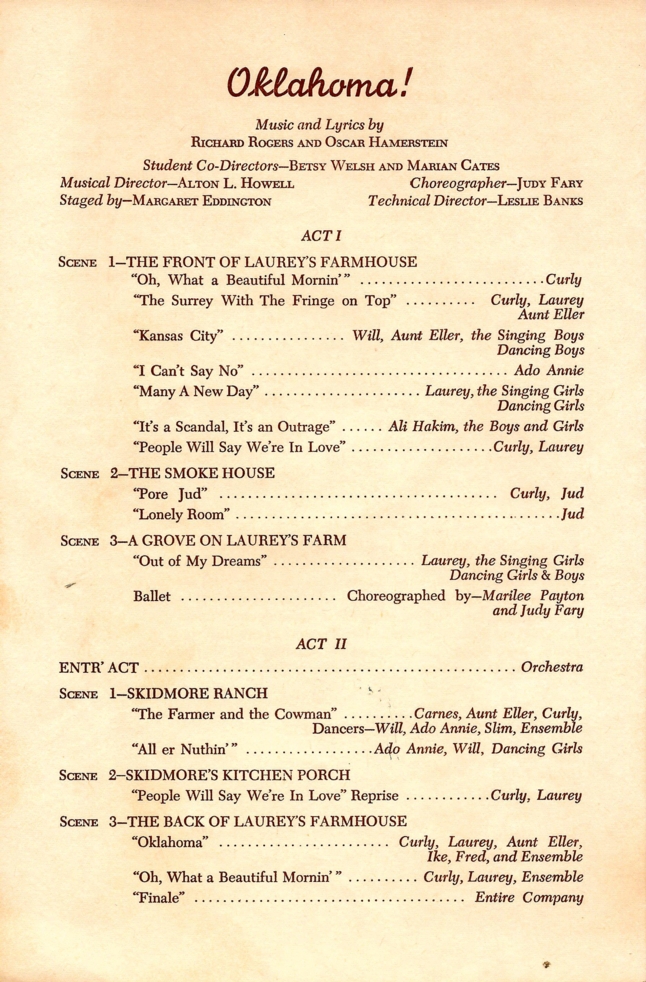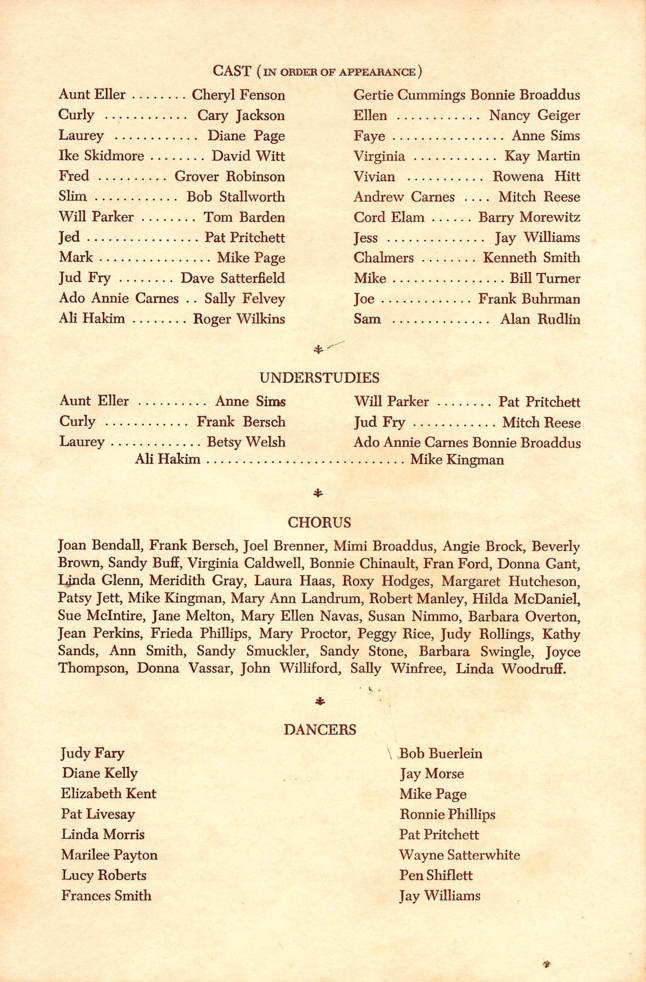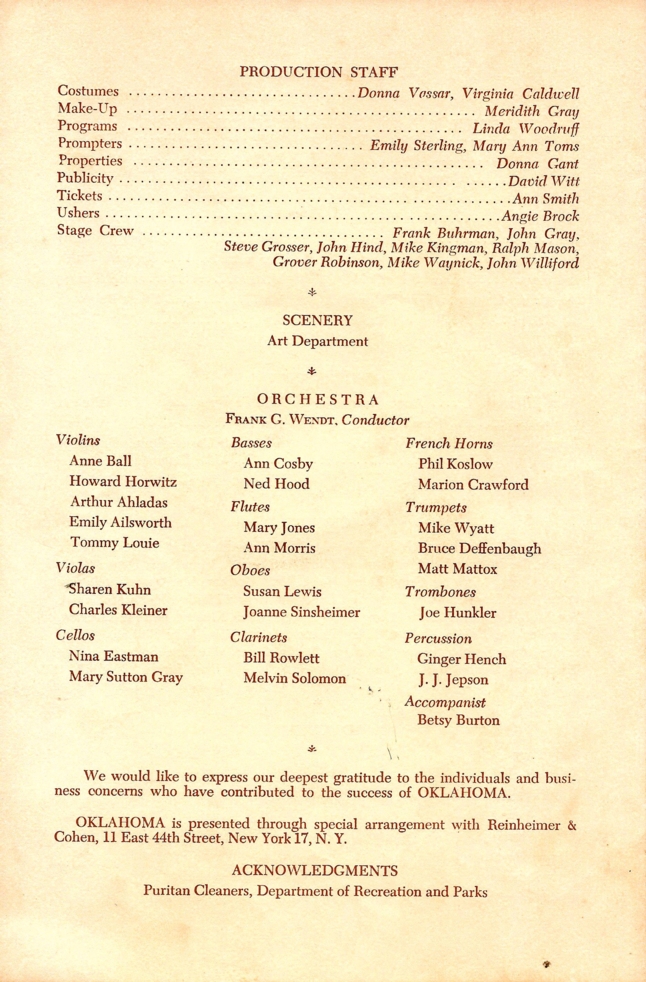 Did You Know? Tee Jay Eyeing First Winning Football Season in 41 Years!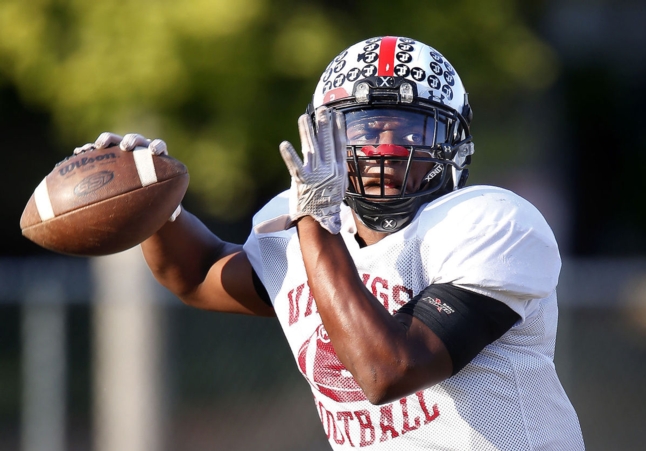 Thomas Jefferson eyeing its first winning season in 41 years
By TIM PEARRELL
Richmond Times-Dispatch Oct 26, 2017
20161103_SPO_PPOW_AWE01
Thomas Jefferson's Jalen Jackson plays quarterback, running back, receiver and cornerback for the Vikings. He also returns kicks.
ALEXA WELCH EDLUND/times-dispatch
The long-term goal for the Thomas Jefferson football team is securing the top seed in Class 3, Region B. But there's a more immediate goal this week: securing a winning record.
Excluding the years when the Vikings were part of the Jefferson-Huguenot-Wythe complex, a winning record has been elusive since 1976, when TJ went 6-5 and lost in the playoffs to Highland Springs. TJ (5-3) already has matched its most wins since 1995.
The Vikings are first in the scale used to determine the playoff seedings, with a healthy margin over Spotsylvania (4-4). TJ made the playoffs last season at 4-5 and lost 51-0 in the first round to Brentsville. It also made the playoffs in 2013 at 3-7.
The rise has come behind an offense that can put up points with running back Jalen Jackson and quarterback Anwar Wilson-Bradley and an ability to win close games.
TJ has won all of its games by 7 or fewer points. First-year coach P.J. Adams, a former assistant at TJ, said a factor in winning close games has been strength and conditioning implemented by coach Steve Miller.
"City schools don't always have the greatest numbers," said Adams. "We became fatigued in the third and fourth quarters. So … all summer we worked on being in condition."

Jackson has run for 1,067 yards and 12 touchdowns in six games. Wilson-Bradley started the season at wide receiver. He moved to quarterback after the fourth game and has helped take some of the pressure off Jackson with 562 yards rushing and five touchdowns.
"He's a dual threat," said Adams. "We saw he could make the zone-read game look a lot better. He's very versatile and as much as people key on the run, we still have some pretty good weapons on the outside who can spread the defense out. We've gotten some really big plays from wide receivers Tyquon Wilson and Anton Wade."
Adams said the offensive line has progressed, led by tackle Robert Tonton-Artis and center Pope Bland.
"People think we're pulling upsets every week," Adams said. "We expected to be in this situation, the coaching staff and the kids."
​tpearrell@timesdispatch.com (804) 649-6965
Do You Know? (Or maybe we should ask, "Do You Remember," or "Do You Understand?")
If you are under 55, you simply won't understand.

This one is still around
Did You Know?...

TJHS CADET CORPS 75th REUNION


Saturday, September 23, 2017

Thomas Jefferson High School. Welcome back!
9:00 – 10:00 AM: Socialize with classmates; browse annuals in halls of old TJ.
10:00 -11:30: Move to auditorium where we will "Walk Down Memory Lane" with Alfred Lehman, "the very first" First Captain, 1942
TJHS Cadet Corps Alumni Band Concert. Sit back and enjoy patriotic music & military marches. "Jeffersonian" will bring back memories of pep rallies, football games & parades.
Noon – 2:00 PM: Catered Lunch by Champagne Taste[MP1] in school cafeteria. Just like good old school days!
Menu includes: Classic Meat Loaf with gravy, Duchess Mashed Potatoes, Green Beans, Succotash & Huntington Salad. Rolls, Butter, Apple Cobbler. Tea & Water.
Cost: $25.00 per person.........Please consider becoming a benefactor by making an additional donation (see details below).
RSVP: No later than July 9, 2017.........Make check payable to: Clyde Parsons
Mail to: Clyde Parsons, 4517 Schaum Court, Glen Allen, VA 23060
Call Clyde for info: 804.270.9606
IMPORTANT: Please include following with your check:
Name of Attendee(s):_____________________ Cadet Company & Year of Graduation:______________.
Suggested levels of giving (circle one): $25 Bronze...$50 Silver...$100 Gold...$200 Platinum...$300 Diamond
... Or Other $
Any amount will be greatly appreciated. Contributors will be recognized in our program.
See you at the 75th!
Did You Know?.

.. Tom Grizzard sent in this photo from back in the day. It was in the Richmond Times Dispatch and appears to be (L to R) Jimmy Rogers, Tyler Eanes, Hunter Sims and Mike Kuper on the steps on the left as our first African American classmates ascended the front steps when schools integrated for the first time. Tom was amazed this photo actually popped up so quickly after all these years. He remembered the scene since he was standing just to the left of the group of four guys talking...he says to be sure to check out the chinos, white socks and weejuns...oh, the sublime coolness of such apparel. See picture just below.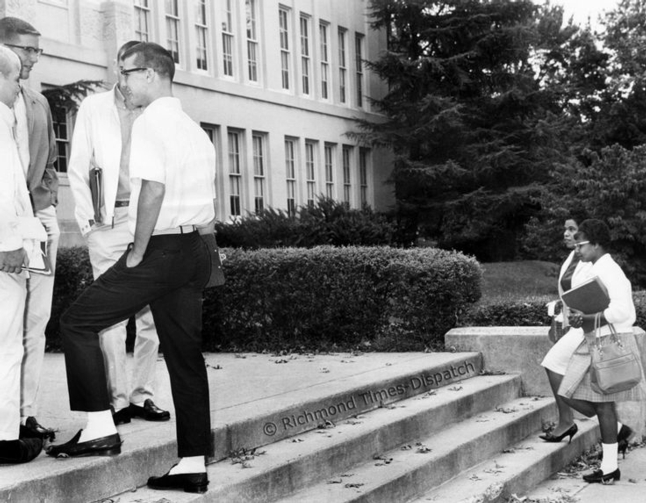 Did You Know?...the baseball scoreboard is up! See the photo below Dave Satterfield snapped. The coach would love to some '64 alumni at the first home game on Tuesday, March 14th at 4:15 pm...they want to recognize our gift to the school -- wear a red hat!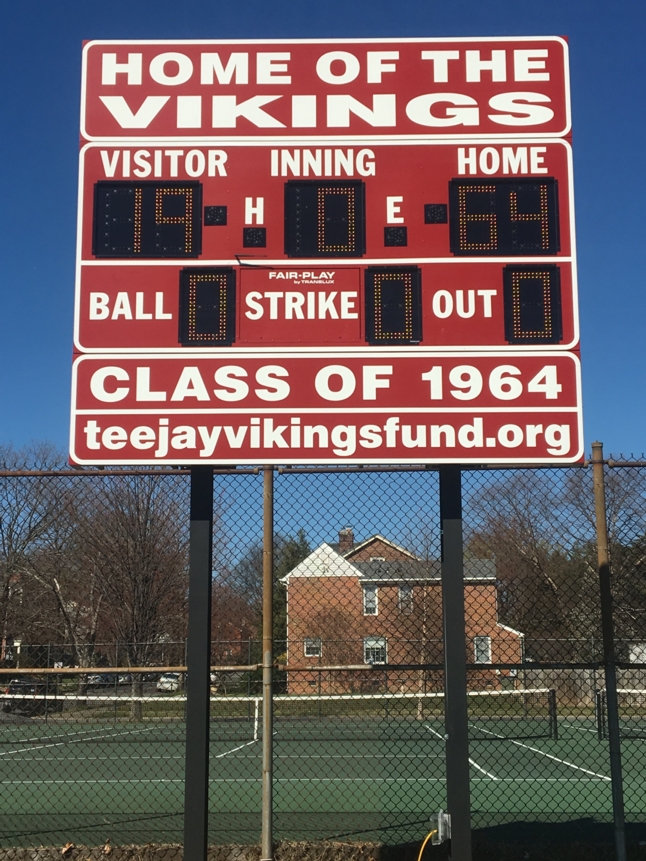 Did You Know?... Here's one of the two most recent articles about Russell Flammia's work for our school....more to come shortly. Thanks to Beth Prillaman Witt for scanning the article from the newspaper.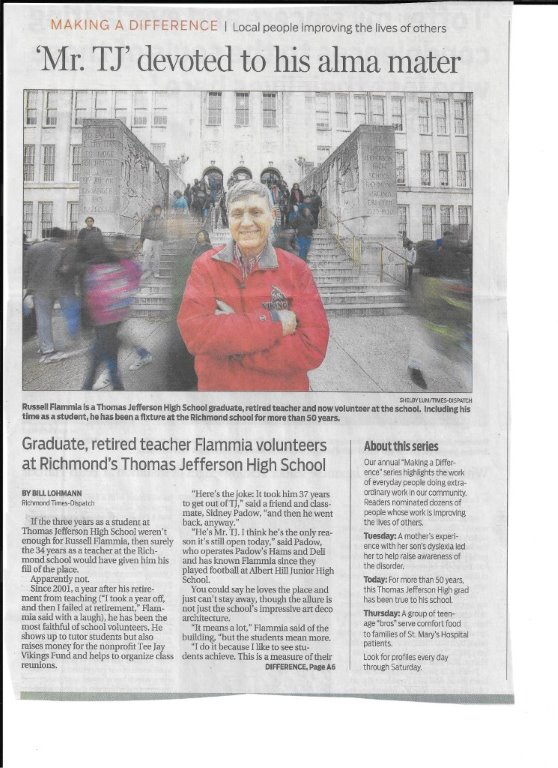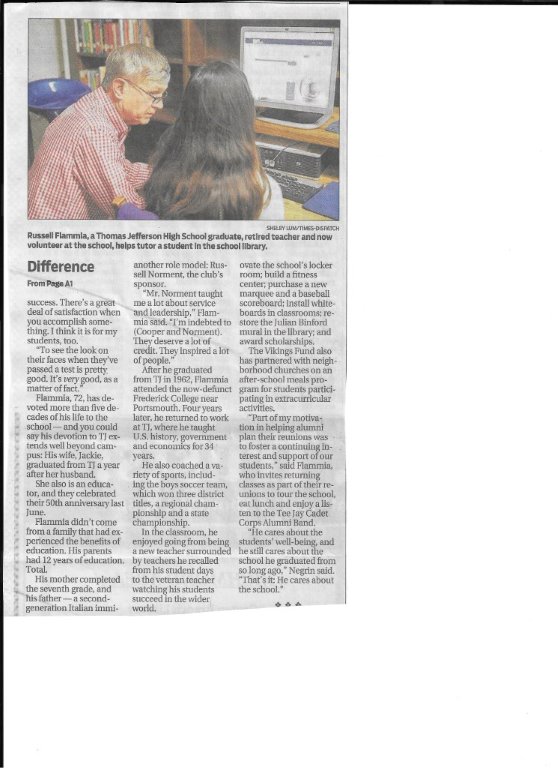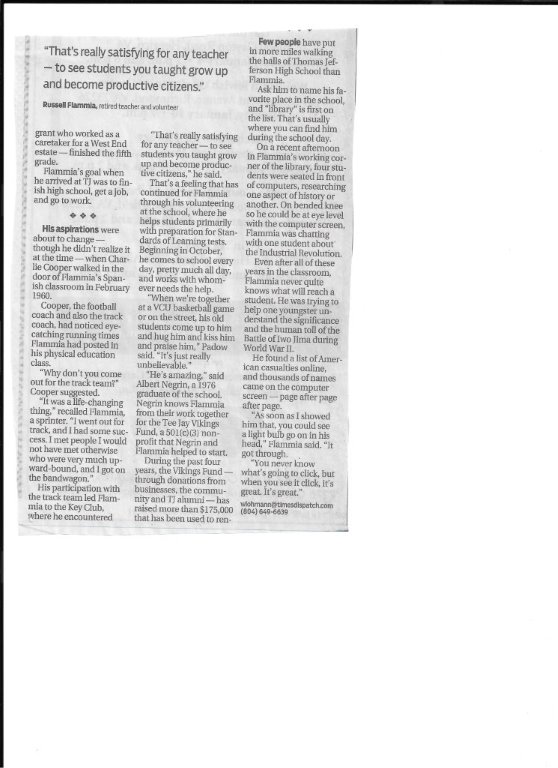 Did You Know?... Blue Shingles ring a bell? Go to this link for whatever became of Blue Shingles? http://theshockoeexaminer.blogspot.com/2015/09/the-last-gasp-of-blue-shingles.html
Did You Know?...about the great work our Tee Jay Markel Brothers, Tony and Gary, are doing for the world? Well make yourself feel good and read about their extraordinary work in this July 18, 2016 article in the Richmond Times Dispatch by going to the link below in blue:
http://www.richmond.com/news/virginia/article_e8c0c7c6-3fd3-580c-8ec1-2aa419db8564.html
Did You Know?...we still get together for lunch every month on the second Thursday at 1:00 pm at Padows (FYI: Owner, Sydney Padow is a Class of 1962 Tee Jay graduate and treats us real good.) Come anytime you can and join us...it's a lot of fun. On June 9th, Tom Grizzard drove down from Northern Virginia and joined us for lunch...his cousin, Roy Grizzard and friend Les Schrieber and his lovely wife also joined us for a lively get together. Photo shows all but Ed Butterworth who had just left us.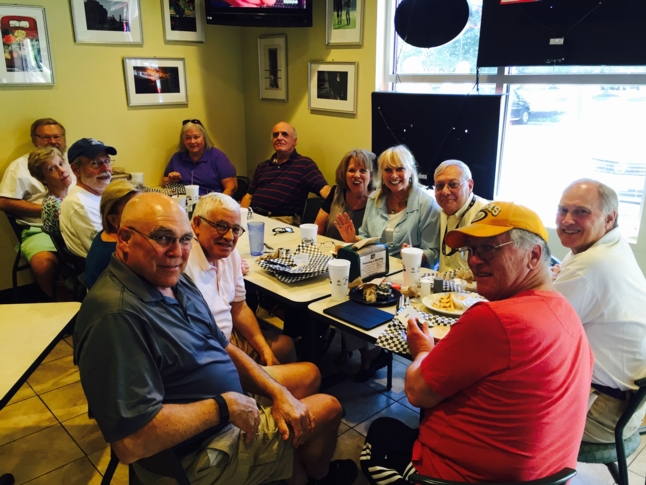 Did You Know?...the bouncer of Tantilla Gardens just passed away. Read about this interesting man at the following link by clicking on the words Red Riddell here in blue.
Did You Know?... one of our own has just gotten her nose pierced in celebration of making it to 70 years and climbing! Betcha can't guess who it is!!! Go ahead, try...First person who gets it right, I'll let everyone know how clever you are and I'll paste a snap I took while our mystery classmate gritted her teeth and demonstrated awesome courage while she let them bore into her schnoz.
Did You Know?...that the new Tee Jay baseball scoreboard ordered as of the week of Novemeber 7, 2015, is now in its installation phase as of June 2016. Soil samples were being taken in early April 2016 and other prerequisites completed so we're moving ahead with the actual erection. Give yourself a pat on the back cause the Class of 1964 helped make it all happen!! Click on the link BASEBALL SCOREBOARD to see what it will look like.
Did You Know? ...the words to our Tee Jay '64 Jr. Stunt Night skit that used tv guest host Jerry Lewis' Summer 1962 "Memory Game" adaptation of The Twelve Days of Christmas when they were looking for a host replacement for retired Jack Parr on the Tonight Show (plus a few other brilliant literary additions from some of our classmates perhaps)? Here's what we got so far, compliments of Fred Antonelli. The link below was just a serendipitous moment last year at one of our reunion committee meetings when we were trying to figure out the words and had several senior moments...
One hen, Two ducks, Three squawking geese, Four Limerick oysters, Five corpulent porpoises, Six pairs of Don Elverzo's tweezers, Seven thousand Macedonians in full battle array, Eight brass monkeys from the anicent, sacred crypts of Egypt, Nine apathetic, diabetic old men on roller skates with a market propensity toward procrastination and sloth, Ten lyrical, spherical,querical denizens of the deep who haul, stall, and crawl around the quo and quay with a quivy -- all at the same time...11....12....? Was there an eleven and twelve?
https://www.youtube.com/watch?v=2M8ogUBo5hg
Did You Know?...Mrs. Woodson's 1st Grade Class at Westhampton Elementary School. Can you name all the kids in the photo? Do you remember the set of twins? Thanks to Dave Riley and Fred Antonelli for the photo.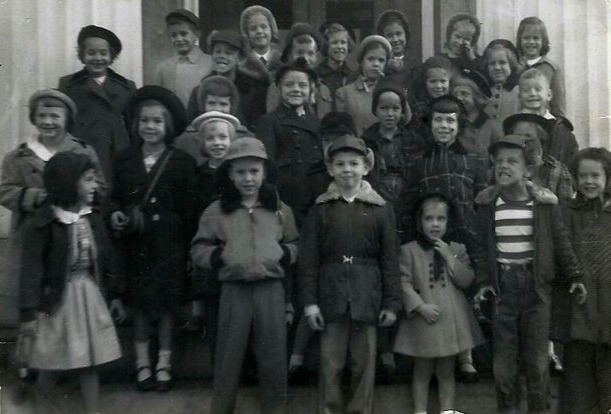 Did You Know? ...Current Tee Jay football team is making the news again. Read all about the good stuff they are doing when they take their helmets off by clicking on the link below:
LINK TO ARTICLE ABOUT TEEJAY 2015-16 FOOTBALL TEAM
Did You Know?... that our very own John Henley is an established photographer in RVA and that he has just released a modestly priced coffee table type book titled "Richmond Virginia"? John's photographic portrait is available at The Book People here in Richmond. His photos are wonderful and the text commentary by co-author, David Neale, is equally superb. Below is a snapshot by your website administrator of the cover of John's new book.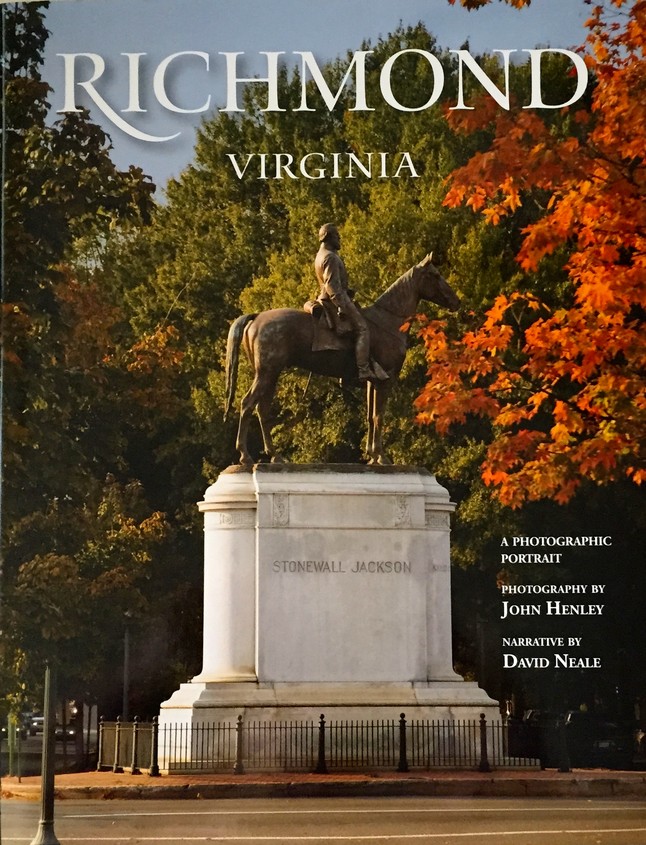 Did You Know? ...about our receiving our own Tee Jay flag in 1963? Here's a photo of Mr. Brock with TJ cadet John Gardner and two other cadets in the background looking on. Do you know who these two cadets are in the background? First one of you who sends us the right answers may get a prize, notoriety, or both.
News Flash: We have a winner of our TJ Trivia Contest about who the guys are behind Cadet Colonel John Gardner, the senior student cadet corps commander in the photo below: Congratulations to GARDNER VAUGHAN JONES!! He has correctly identified the young man behind on the left in the photo as Cadet Major Wayne Stith standing behind Mr. Brock (also a Brigadier General in the U.S. Army Reserve), and beside Wayne is 1st Lt. Douglas H. Mosley, Jr, US Army Senior ROTC instructor and Commandant of the TJ Cadet Corps.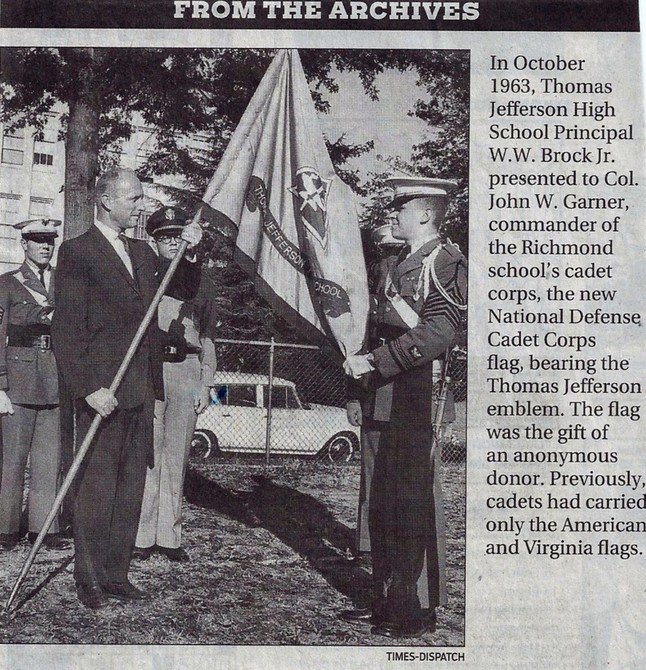 Did You Know?... there's now an outside support organization for TeeJay? It's an independent, not-for-profit (so your contributions are tax deductible! ) organization made up of alumni from different classes and other partners outside the school who want to help the school...it's called The Tee Jay Viking Fund. Their mission is to help the school in a myriad of ways like football program, new scoreboards and marquee and more. You can help them help the school in ways the government apparently cannot.
Did You Know...the latest about the mural? The mural in the library (you know, the one with Thomas Jefferson in it) has recently been restored. Click on following link to view a slide presentation about the renovation project -- "Mural_Renovation_Project(2).pptx" . Read more about this renovation project in the recent RTD newspaper article in the link in blue...newspaper article.
Did you know...? Many TJ alumni gave their lives while serving their country. Several alumn, Bill Stratton and Dave Straus, put together a powerpoint slide presention on Youtube that honors each alumnus who passed away while serving in WWII, the Korean and/or the Vietnam Wars. Click the link below to view this touching presentation.
https://www.youtube.com/watch?v=wokaal3mfXU
Did you know...? We have lunch together each month, second Thursdays @ 1:00 PM, PADOW'S ON COX ROAD IN RVA? JOIN US IF YOU'RE EVER IN TOWN!!!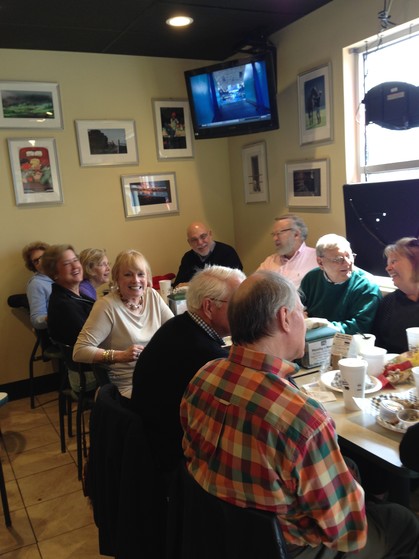 APRIL 2015 LUNCH WITH TOMMY GRIZZARD (IN BACK, FAR RIGHT), BOBBY BUERLEIN, TOM
STEPHEN, VIRGINIA CALDWELL, BOB GRAHAM, ED BUTTERWORTH, SALLY FELVEY,
PAT LIVESAY, BETH PRILLAMAN, AND MARGARET SNEAD.
Did you know...?
...that over this past weekend (April 17-19, 2015) several ladies from the Class of 1964 got wind of a few girls at TJ who were not able to attend their senior prom coming up next weekend. They weren't able to go because they just didn't have the money for either a dress, shoes, or both. Our TJ'64 ladies checked out the situation and began to pass the word around...almost immediately donations came in to help these girls out. Enough money was raised to meet all of their prom needs. Mrs. LaToya Branch is the TJ faculty, Director of Community In-Services, in charge of the community/student needs and it was through her that we were able to ensure the money went to the right people at the right time for the right thing...Our class continues to be the greatest!!! With the excess money collected a scholarship fund has been set up to help individual students in the future who have decent grades and specific needs...more to come about this so stay tuned.
Did you know...?
...that classmate Tom Stephen just received this cool award about the same time as our reunion? Check out this photo of him and his award that was in the Richmond paper.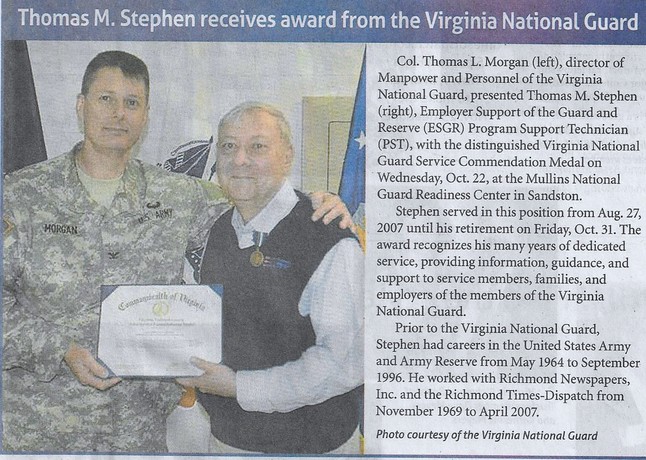 Did you know...?
...that some TeeJay women in 1963 (sometimes sororities of them!) went to Virginia Beach to have fun? Check out these two photos and see if you can find, in no particular order just to make it more challenging, from our class: Beverly Moore, Susan Smith, Virginia Caldwell, Betty Lee Davis, Peaches Noe, Mark Probst, Ann Sims,, Kathy Paul, Judy Tower, Susan Lewis, Susan Tarrant, Beth Prillaman, Linda Charnock, Margaret Hutcheson,, Kay Hazelgrove, Jackie Deane, Penny Wheatcroft; and from the Class of '65: Emily Green '65, Linda Morris '65, Bobbie Jean Packer '65, Lynn Phillips '65, Cecil Campbell '65.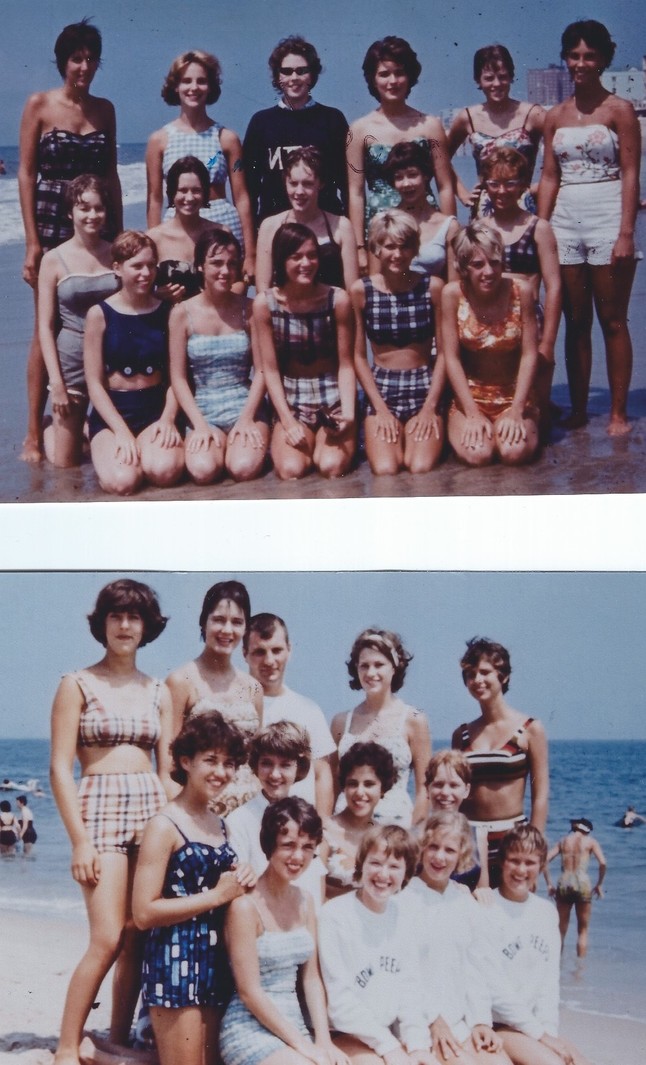 Did you know...?
...that we're actually aging! Watch this hilarious YouTube video (15 min) and have a good laugh with the rest of your classmates! To view, just click on the link in blue text just below:
//www.youtube.com/embed/LR2qZ0A8vic?rel=0
Did you know...?
...that currently, our school namesake, Thomas Jefferson, has a placque in Paris put there by some UVA alums to honor him? And one of our classmates, Wayne Satterwhite, who is currently visiting Paris, has searched and found the placque and sends us this photo of it ?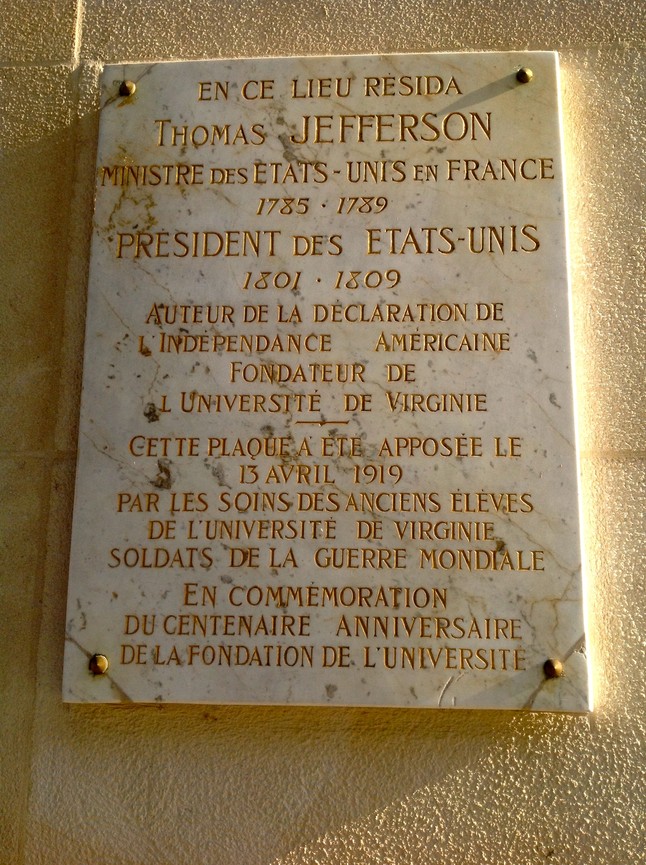 Did you know...?
...that our perceptions and experience with the music of our day was diverse? And that, in general, our 60s music was also both individually life-changing and historically culturally defining? One story written by a student in 1964 is pretty illuminating. His life was altered by the music of our day. To read this story, either Google up Steve Buckingham Music and go to his document titled "My Story,"
or...
...just click on the blue live link here below to read it!

http://www.stevebuckinghammusic.com/docs/SB-MYSTORY.pdf
Did you know...?
...that our TeeJay's Richmond today is a far cry from the 1964 version in which we spent our teens? Below is a pretty good YouTube rap video about Richmond that was sent in to us from classmate Fred Antonelli. It offers a pretty cool glimpse of Richmond, or "RVA," as it is referred to today.
Did you know...?
...that our TeeJay was a good deal more, both then and now, than a pretty good academic institution? Go to the following link and learn some cool stuff at http://web.richmond.k12.va.us/tjhs/About/History.aspx.
Did you know...?
..that our Tee Jay was an Art Deco building? And that it remains a public high school today and was constructed in 1929 and opened in 1930?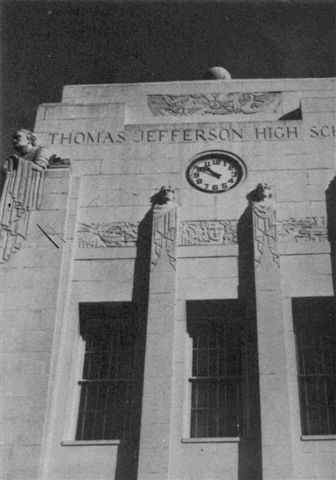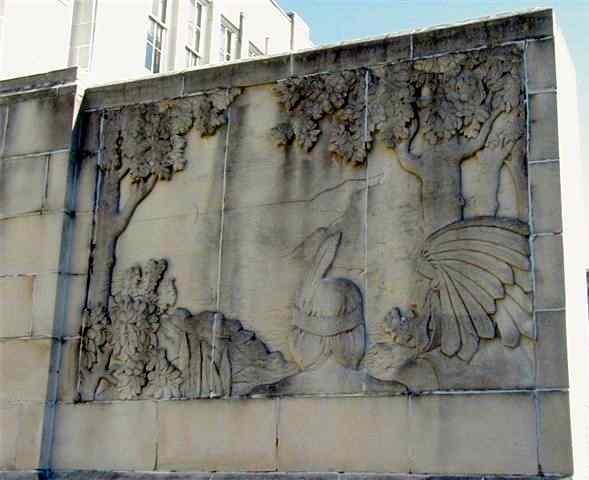 Did you know...?
...that our school was listed on the U.S. National Register of Historic Places?
...that Tee Jay was designed by architect Charles M. Robinson1 and in a book by Calder Loth, "The Virginia Landmarks Register," he refers to the school as Robinson's "masterpiece" and notes that the structure is "a celebration of education, a bulding redolent of civic pride."3
References:
1. "National Register Information System". National Register of Historic Places. National Park Service. 2009-03-13.
2."Virginia Landmarks Register". Virginia Department of Historic Resources. Retrieved 19 March 2013.
3. Calder Loth, Virginia Department of Historic Resources (1999). The Virginia landmarks register.
University Press of Virginia, p 444. -- Wikipedia
Did you know...?
...that a few years after we graduated, TeeJay was the site for a movie production of a small film that eventually stirred quite a bit of controversy and embarassment? Ask Bobby Buerlein if you want to know more...

Did you know...?
...that one of our schoolmates from TJ class of '65, a professor of education at the University of Virginia, actually wrote a book about TeeJay? The book is titled "The School That Refused to Die?" Do you know the author's name?
Did you know...?
...that favorites Bills Barbecue and Shoney's "drive-around-and- see-who's-here" sites are now closed down... that the Cokesbury Bookstore building is up for sale, and that THE Clover Room is currently no longer in the banana split biz? ...OMG! Update 6/29/14 -- Bill's is down, i.e., building demolished...but Libbie Avenue is still there!
Did you know...?
... that one of our classmates today is an accomplished pole dancer?...that another of our classmates wrote a book about his father's capture in WWII?...that one person from our class lives in Israel? ...that some people in our class are still waiting for Melvin Soloman's musical "Evangeline" to run on Broadway?...
Did you know...?
...that the boyhood home of our school namesake, Thomas Jefferson, was in Richmond? That's right; he grew up just down the road from us (River Road to be exact). Today it's a lovely working "estate" called Tuckahoe Plantationn and you can tour the wonderful gardens overlooking the James River and take in its really good "vibe." I love that you're asked simply to put $5.00 in the little wooden, on your honor donation box at the entrance way to the property. The estate is privately owned and a real gem indeed. Interior home tours are by appointment.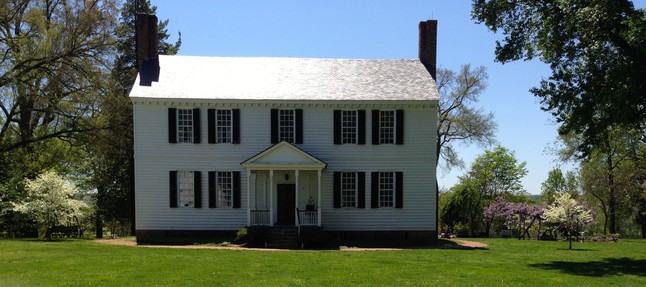 Tuckahoe Plantation, Thomas Jefferson's Boyhood Home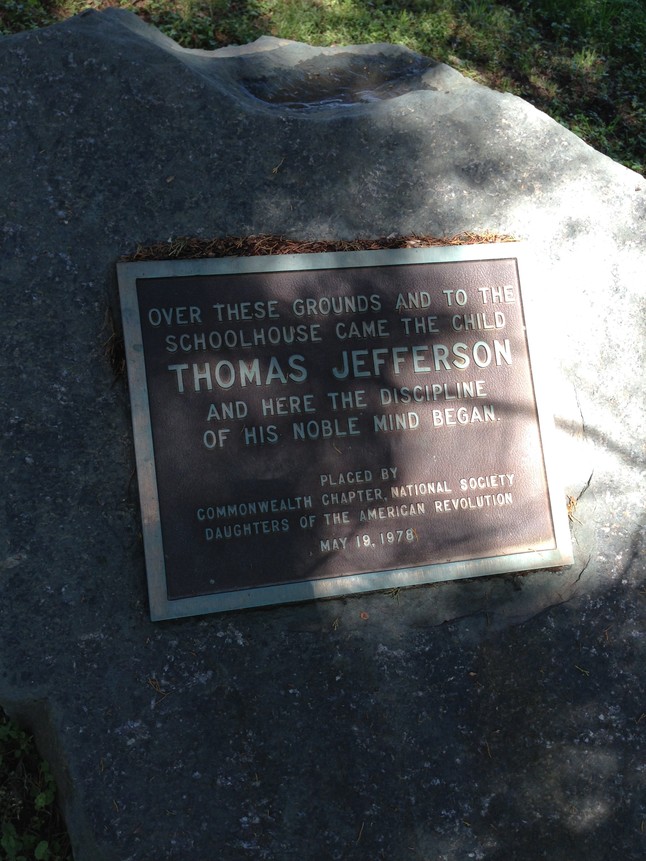 On a rock at Tuckahoe Plantation
Did you know...?
...that one of our classmates is an expert duck decoy carver, another is a blacksmith, and still another classmate won two (that's correct, TWO) Academy Awards and one Academy Award Nomination?
Did you know...?
...the story about Randy Rocchiccioli's first car? Here it is as recently recounted by "class detective" and TeeJay pal of Randy's, Irv Green: Randy's first car was a 1947 Ford coupe. He had just proudly installed new carpet and cleaned it all up. (That in itself was a big deal to most of us at that time.) Anyway, one evening Randy was going on a date with a girl classmate and, before he left, his father came home from work and was looking in the car. He asked, "What's with the cardboard box on the floor?" Randy replied, "That's for my date's feet." Mr. Rocchiccioli laughed and wisely advised, "Ok. Now you need to put a cardboard box in the seat for her to put her butt in." Randy removed the box.
Did you know...?
...that one of our classmates was legendary in the world of cheerleading? That's right, cheerleading. This person was voted "One of the Most Influential People in the All Star Cheerleading World" by American Cheerleading Magzaine and Cheerleading Biz magazine. She founded "The Cheer Factory."
Did you know...?
...that one of our classmates sits on the Virginia House of Delegates? Another has lived in foreign countries all over the world, adopted four international children and recently returned to Richmond to live?
Do you know...?
...the story behind our school nickname, "The Vikings" ?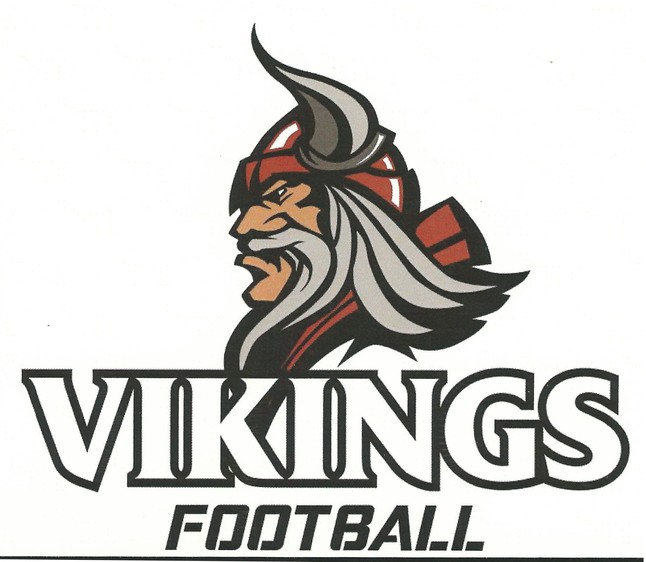 Do you know...?
...to which one of our TJ'64 classmates do these vintage 1964 Weejuns belong?