Thomas Jefferson High School


Class of 1964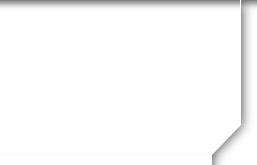 Did you know?...
Do You Know?....According to a recent article by Bill Lohmann on the front page of the Richmond Times Dispatch, a 1988 or '89 TJ grad, Nicci Carr, a former Richmonder, is the main character in a Geico commercial that is airing on national TV! Click on the link below to read the article in the Richmond Times-Dispatch:
https://richmond.com/news/local/lohmann-the-woman-in-the-geico-scoop-there-it-is-commercial-nicci-carr-grew-up/article_23f386f9-be1a-5772-bb32-9362eb5573a0.html
Do You Remember? Check out this video from back in the day...
Click blue link https://www.youtube.com/watch?v=nSC7SXQpInM
Did You Know...Kit Tyler Got Famous Recently? Read on....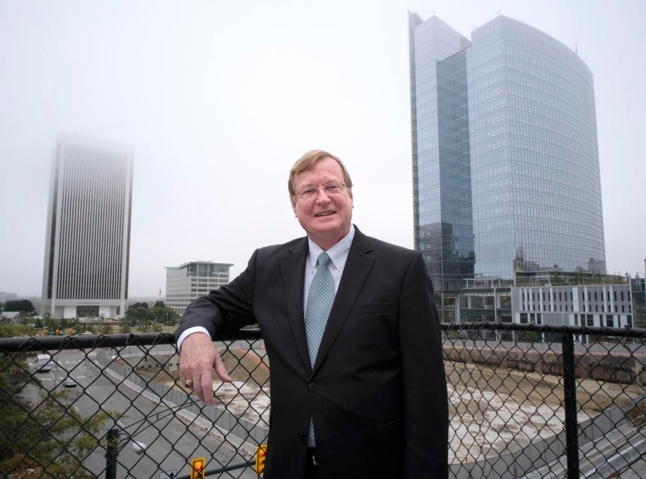 Kit Tyler: A deal maker, a mentor and 'one of the most recognizable people' in Richmond's commercial real estate industry
By CAROL HAZARD Special correspondent Richmond Times Dispatch
Catlin E. "Kit" Tyler Jr. is known in commercial real estate circles as a deal maker — hard working, energetic and focused.
He's also a mentor, whether it's helping people in the industry or others in need of an uplifting Christian message.
"He is an inspiration to all who have worked with him over the years, especially the younger pros who were looking for broker best practices on how to conduct themselves and be successful in the business," said Scott White, a broker with Pollard & Bagby Inc., a residential and commercial brokerage in Richmond.
White, who has known Tyler for 36-plus years, worked with him at Harrison & Bates, a commercial real estate brokerage founded in Richmond in 1910.
After 49 years with the same firm, Tyler joined Commonwealth Commercial Partners in Henrico County last year as a senior vice president — after Harrison & Bates was shuttered following its affiliation loss with Colliers International Group Inc.
Tyler said he considered retiring at age 75. But now that he's 74, he's looking at 80.
"Not right now," he said. "I enjoy good health." Besides, he has — as always — a few deals in the works.
"At one time, he was called Mr. Downtown because of his command of so many sales and leasing agreements in the Central Business District of Richmond," White said.
His ability to go after opportunities with landlord, tenant representation or auction sales are too numerous to count, White said.
Tyler has been the leasing agent for landlords of buildings such as Richmond Plaza, the Federal Reserve Bank, One James River Plaza, United Virginia Bank headquarters (now the SunTrust Bank building) and WestRock (now also home to CoStar Group's global research).
His major building sales include Richmond Plaza (which he sold twice), 900 E. Main St., One Capital Square, 629 E. Main St. and 10 E. Franklin St. (which he's selling for the third time.)
Tenants and buyers include Verizon, Northwestern Mutual, Dominion Energy, Media General Inc., Apple Hospitality REIT Inc., Capital Square Acquisitions and Covington Travel.
"Kit has worked with thousands of clients, cooperated with hundreds of other brokers and contributed his talent to numerous business and civic organizations — making him one of the most recognizable people in our industry," said David M. Williams, also a senior vice president at Commonwealth Commercial.
Williams and Tyler were among eight associates — mostly brokers — who made the jump to Commonwealth Commercial last year when Harrison & Bates folded.
At that time, Williams was president and CEO of Harrison & Bates. Tyler was vice chairman.
"It has been a smooth and welcome transition," Williams said.
Paul Denton, managing director of brokerage operations at Commonwealth Commercial, recalls how in 2002 he had only been in the business a few months when Tyler showed up at a listing with a prospective tenant.
"I knew Kit was among a select group of top office agents in Richmond and frankly I was a little intimidated about making a mistake," Denton said.
Tyler, who worked for a competing firm, pulled him aside: "You did great. Keep it up and remember you gotta play the long game in this business. Stay honest and success will come."
The message stuck, Denton said.
"He still beat me up on the deal negotiations. He taught me that you can be a good person but still be tough as nails when representing your client," Denton said. "Kit had a great reputation of making young agents feel welcome to the business and that continues today with the mentoring he does at Commonwealth Commercial."
***
Tyler joined Harrison & Bates in June 1970, after graduating from Virginia Military Institute in 1968 and working for two years as an assistant manager in food services.
He started in property management, moved into leasing and sales in 1972. His first big deal was Richmond Plaza, a former cigarette manufacturing facility that was converted into office space and leased by users including Medical Data Services, Virginia Power, Commonwealth of Virginia and the Department of Information Technology. Dominion Energy eventually bought it and tore it down to make way for its 20-story 600 Canal Place office tower.
"That set me off as an expert in large property leasing," Tyler said about the Richmond Plaza building.
Tyler, also the leasing agent for the Federal Reserve Bank of Richmond's building for years, was promoted to director of Harrison & Bates office brokerage in 1984. As many as 10 people worked in that group.
He compiled data on office buildings — occupancy, vacancy and rental rates — for the Harrison & Bates Market Review for 17 years, underscoring his expertise.
"Kit is battle-tested and respected," Denton said. "It's virtually impossible to look at an office property in our market where Kit didn't do a deal. Understanding market trends is one thing but understanding the individuals that make the market move is entirely different."
In his 50 years in the business, Tyler has survived economic cycles, including a downturn in the 1980s when office buildings were selling at 30 to 35 cents on the dollar. He was in leasing then, so it didn't hit him hard.
The one economic downturn that hurt was the financial collapse in 2008, when people sat on real estate and nothing was sold.
He's not sure what to think of the present coronavirus-related effects on office space with vast numbers of people working from home.
"Working from home gets old and there's not a lot of synergy," Tyler said. "People are getting Zoomed out," he said referring to the social media meeting platform.
With social distancing mandates, companies may need to cut the number of people working in any one space, he said. "Yes, it will affect us, but to the degree, I don't know."
***
While serving as a mentor to many, Tyler's heroes in real estate were the late John "Jack" Bates Jr., patriarch of Harrison & Bates from the late 1940s to the mid-1990s, and the late Robert E. "Bob" Barton, a leader in the real estate appraisal business in Virginia for more than 50 years.
Tyler carried the briefcase (figuratively) for Bates. "It was my pleasure to work with him on many real estate projects to follow through on his concept of developing downtown Richmond from Main [Street] to the James [River]."
Barton was an accomplished real estate professional, Tyler said, with the utmost integrity and a devoted fellow leader in Crestwood Presbyterian Church — words often echoed by others to describe Tyler.
Brent Graves, principal of Conquest Moncure & Dunn Inc., a construction firm in Richmond, said he knew Tyler by reputation for 30 years and met him in person 20 years ago as part of a business roundtable.
"The first thing that comes to mind is he's a spiritual person who is involved in his church, very honest and trustworthy with a tremendous amount of integrity," said Graves, who has worked with Tyler in leasing, sales and purchases.
"He's very client-driven and a straight shooter," Graves said. "When you have a great reputation, people listen to you."
Tyler lives by a few mottoes — some original, some borrowed:
People do business with people: "You can do a lot of things but ultimately you are dealing with an individual. You don't always have loyal clients but you try to nurture them," Tyler said.
Time kills deals: "A broker is the conductor of the orchestra and must keep it all together. If you drop the ball, everything falls apart. You have to keep everyone motivated."
That said, real estate deals can take years. Tyler cautions young brokers that the challenge they face is they don't get paid until the deal is done. He recently sold a medical office building that took 18 months. He once had a listing that took 18 years to sell.
The man who rolls up his sleeves seldom loses his shirt: "If you're willing to work hard, dig in and keep the ball in the air, you will have success as opposed to failure."
***
Tyler is a spiritual leader as well as a business leader, Graves said.
A former deacon and elder, Tyler went on five "life-changing" mission trips to Haiti through his church, Crestwood Presbyterian Church, from 1993 through 2007.
He volunteers as a mentor for Faith Based Re-Entry, a prison ministry helping people achieve success through spiritual healing when they re-enter society.
"The guys who run the program are saints. I'm on the mentor side," Tyler said. "Just about zero [participants] go astray."
Tyler, his friends and associates say, is generous with his sage advice — way beyond his business dealings.
Catlin "Kit" E. Tyler Jr.
Title: Senior vice president at Commonwealth Commercial Partners since June 2019
Born: July 15, 1946 in Alexandria, reared in Richmond.
Education: Thomas Jefferson High School, 1964; Virginia Military Institute, bachelor of arts degree, history, 1968.
Experience: Assistant manager in food services at Hampden-Sydney College, 1969-1970; Harrison & Bates, as a property manager in 1970, moved into leasing and sales in 1972, appointed director of the office brokerage in 1984, vice chairman in 2003.
Affiliations/Awards: Recognized as top producer for the Richmond area by the Richmond Commercial Multiple Listing Service, 1993; charter member (since 1980) and president of the Richmond Real Estate Group, 1989; president of the Civitan Club of Richmond, 1982-1983; member of Venture Richmond's marketing/advocacy committee, 1980-2017.
Family: Wife Jeanne; son Trey Tyler; daughter Anne-Chappell Tyler Tommasi and her husband, Tony; son Chandler Tyler; and grandchildren Eva and Caroline Tyler; Kyra, Tallie and Michael Tommasi.
Activities: Active in Crestwood Presbyterian Church, serving as deacon and elder, participant in five mission trips to Haiti; and a mentor in Faith Based Re-Entry, a prison ministry program.
Did You Know...A History of Thomas Jefferson High School ?
A History of Thomas Jefferson High School
by Russell Flammia '62
Thomas Jefferson High School's opening day was September 11, 1930, which was a little more than a year after its cornerstone was laid. Built to relieve overcrowding at the time, this location was in a relatively undeveloped area away from the high density population of the city's central core. With its impressive exterior and interior art deco style, the school remains an impressive architectural structure designed by Charles Robinson. Consequently, the school is designated as a Virginia Historical Landmark.
Since its first students graduated in 1932, tens of thousands of students have followed in their footsteps and throughout the years many significant events have transpired. Students attending Tee Jay, as it is colloquially known, in the 1930's endured the hard times of the Great Depression. With the outbreak of World War II, over 1,200 Thomas Jefferson students and alumni served their country in the military. Of this number 73 gave their lives, (made the ultimate sacrifice) with one receiving the Medal of Honor.
With the conclusion of the war many former students returned to complete graduation requirements. Shortly thereafter, additional requirements were mandated, resulting in the present twelve years needed for most students to graduate. When the Korean War broke out in 1950, Thomas Jefferson alumni again answered the call to duty. This conflict was followed by the Vietnam War which also involved Tee Jay alumni and a second Medal of Honor recipient. Throughout the fifties and sixties, the cold war was a concern to most of the Thomas Jefferson community.
Throughout these periods, high academic achievement was an expectation which permeated the school culture. In Dr. Dan Duke's book about Thomas Jefferson, The School that Refused to Die, he reports that beginning in the fall of 1957, advanced placement courses were offered in world history, trigonometry-algebra and chemistry. Shortly thereafter, AP courses were added in physics, English literature, calculus and foreign languages. While these courses were for college bound students, Thomas Jefferson had a business department which offered courses in book-keeping, shorthand, typing, Distributive Education, and mechanical drawing. Students who had aspirations of making the military a career joined the school cadet corps. The cadet corps and its marching band were regular features in parades in Richmond and the state.
Extra-curricular activities were also an important part of life at Thomas Jefferson during this era. In addition to athletics, over 20 different service and interest organizations existed that gave students a broad range of opportunities to get involved in student life beyond the classroom. Students were awarded Student Participation or S.P. points for their involvement in these various activities.
Although Thomas Jefferson had some economic diversity from its opening day, it was racially segregated by legal mandates. Following the Brown v. Board of Education case, Richmond eventually adopted a freedom of choice plan. However, this policy resulted in hardly any integration among Richmond Public Schools. This plan was superseded in the 1966-67 school year by a U.S. Supreme Court mandated (ordered) revised freedom of choice plan applying to faculty as well students. As a result of this second plan, the 1970 Monticello, Tee Jay's year book, shows the photographs of 122 black students among the student body.
In order to bring about desegregation plaintiffs filed suit in U.S. District Court.
On August 17, 1970, just two weeks before the opening of schools, Judge Robert Merhige ordered Richmond Public Schools to implement the busing of students, teachers and administrators. Administrators and teachers throughout the school system were faced with a daunting task to arrange schedules, and classes in such a short amount of time for the13,000 students and teachers that were bused. The opening days were peaceful and stressful, but in the days that followed enormous changes would take place at Thomas Jefferson.
A period of declining enrollment followed, resulting in two attempts to close the school, but the students who were denied admission during the days of segregation rallied their classmates, alumni, and other members of the community, then marched from Thomas Jefferson to city hall, and convinced the school board to keep the school open.
Once again, the school is a growing vibrant educational resource and continues to serve many cultures which reflect dynamic changes in our local, state, and national populations. In addition to a traditional high school program for college bound and non-college bound students, a vigorous International Baccalaureate program is offered. This program is offered to any student who lives in the City of Richmond. Additionally, AP courses are offered in English language, literature, statistics, chemistry, physics, and environmental science. In recent graduating classes_______% went to college which approaches the same percentage that attended college during the 50's, 60's, and mid 70's.
Charles Robinson architect (1867-1932). Population of Richmond 1905—85K, 1910-127K; Building boom; Richmond's population density12k per sq.mi.—Believed that building should be well-lighted and have lots of ventilation, so his buildings had lots of windows (steps at Tee Jay) and door transoms. Some buildings had ramps for quick entrance & exit—Lee school, Bindford, original J.M.H.S.
Moved to Richmond in 1905. Buildings he did in Richmond:
Stuart Circle Hospital, Ginter Park, Binford, Fox, East End (Franklin Mil.) Albert Hill, Chandler, (Community H.S.) Lee, original Armstrong H.S. Mosque, JMU, VSU, Radford, Wm. & Mary, & U. of R., Central National Bank, English Lutheran Church
Homes around what was once Richmond Memorial Hospital—houses on a square block have a common area in the back, for tennis courts, gardens…
Tee Jay was his last major building. Had to persuade school board & council that a school would be needed in the 'far west end'.
Testified before Congress that integrated education would be beneficial
Did You Know..that one of us wrote a book about Tee Jay?
... that Dan Duke, class of '65 has written a book about Tee Jay?
The title is "The School That Refused to Die"
It's available in hardback or paperback ISBN O-7914-2331-X
or paperback ISBN O-7914-2332-8 Pub. State University of N.Y.
Did You Know...The Tee Jay Football Team Has Won the 2019 Regional Championship?!! If you're around, you may want to attend the semi-final game for state championship at 1:00 pm next Saturday, Dec 7, 2019, at Stuart's Draft H.S., 1028 Augusta Farms Rd, Stuart's Draft, VA.
Go Vikings!!!
Did You Know...Or, more accurately, Do You Remember? "Oklahoma" -- our amazing senior operetta? Check out the program below, circa 1964 (courtesy of Dave Satterfield '64):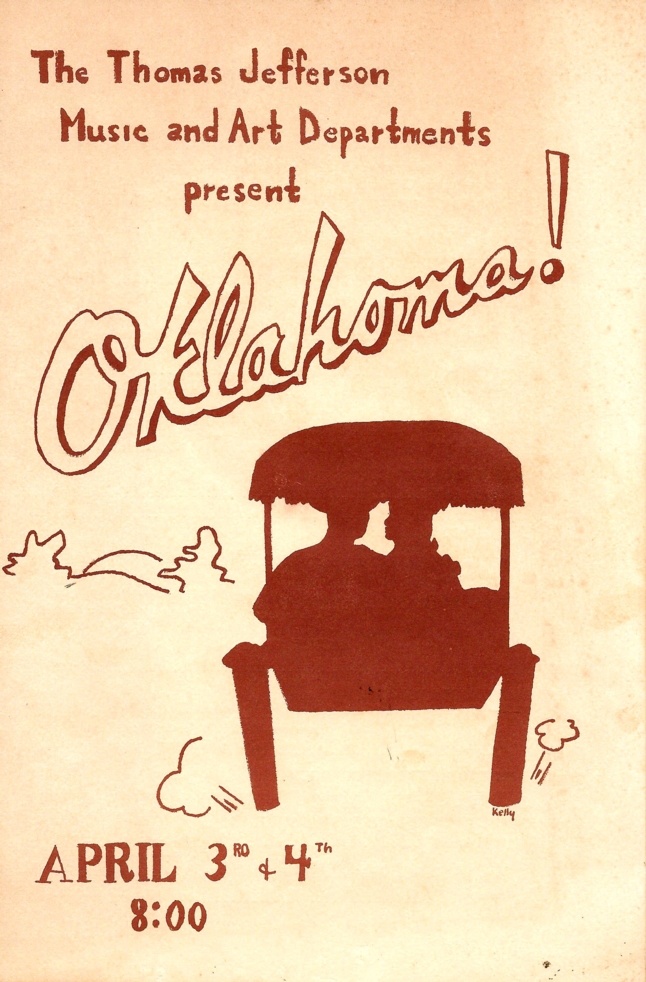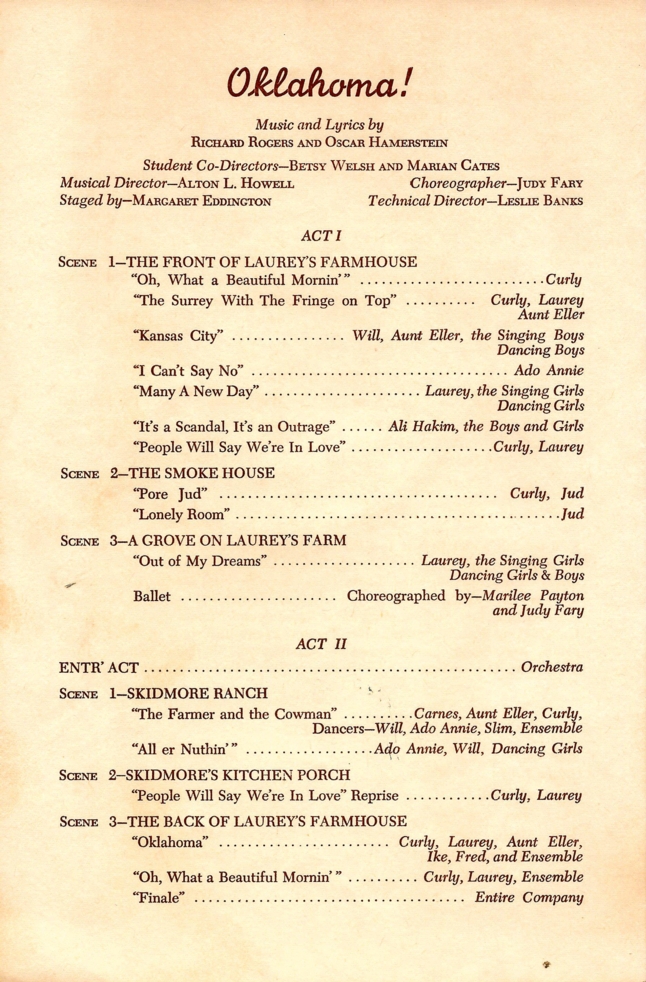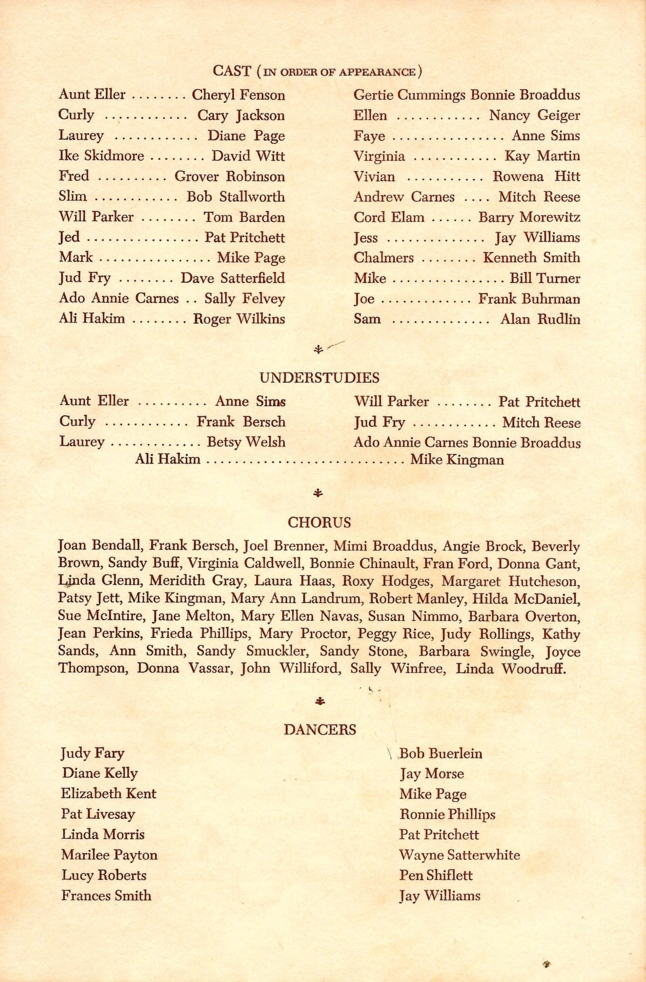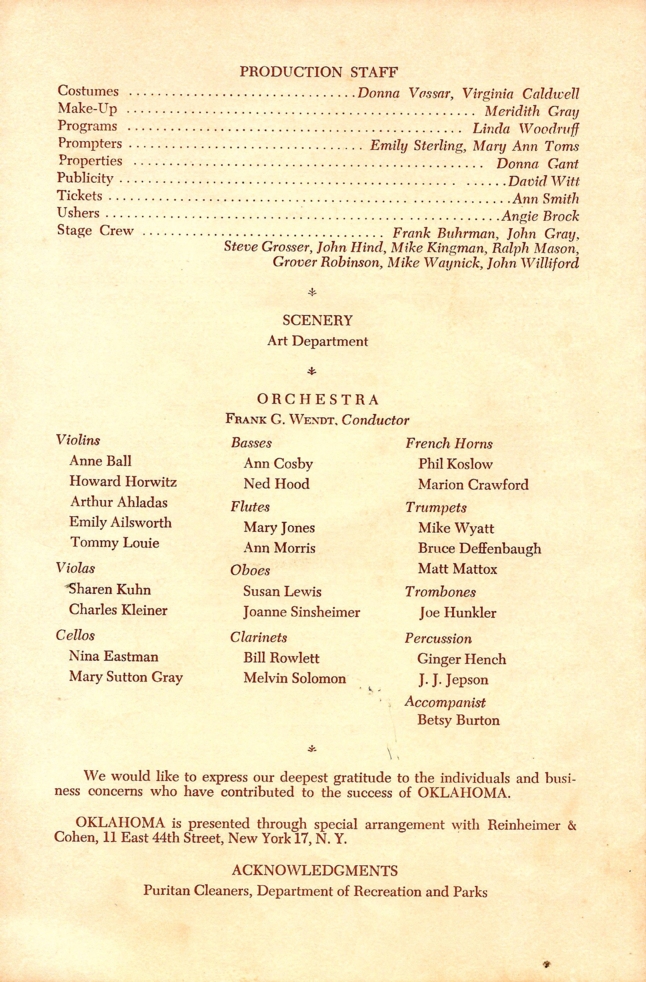 Did You Know? Tee Jay Eyeing First Winning Football Season in 41 Years!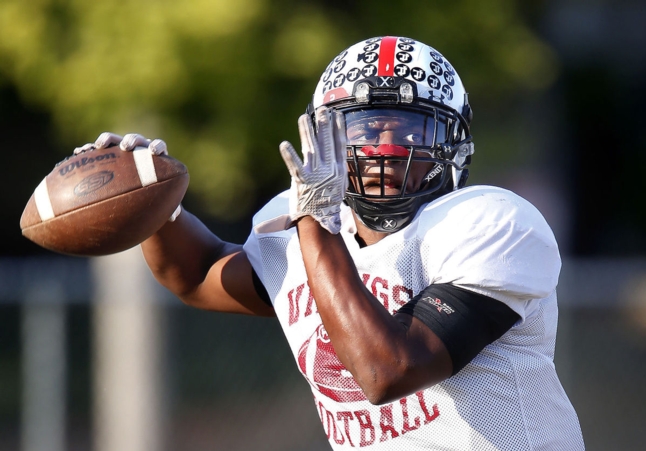 Thomas Jefferson eyeing its first winning season in 41 years
By TIM PEARRELL
Richmond Times-Dispatch Oct 26, 2017
20161103_SPO_PPOW_AWE01
Thomas Jefferson's Jalen Jackson plays quarterback, running back, receiver and cornerback for the Vikings. He also returns kicks.
ALEXA WELCH EDLUND/times-dispatch
The long-term goal for the Thomas Jefferson football team is securing the top seed in Class 3, Region B. But there's a more immediate goal this week: securing a winning record.
Excluding the years when the Vikings were part of the Jefferson-Huguenot-Wythe complex, a winning record has been elusive since 1976, when TJ went 6-5 and lost in the playoffs to Highland Springs. TJ (5-3) already has matched its most wins since 1995.
The Vikings are first in the scale used to determine the playoff seedings, with a healthy margin over Spotsylvania (4-4). TJ made the playoffs last season at 4-5 and lost 51-0 in the first round to Brentsville. It also made the playoffs in 2013 at 3-7.
The rise has come behind an offense that can put up points with running back Jalen Jackson and quarterback Anwar Wilson-Bradley and an ability to win close games.
TJ has won all of its games by 7 or fewer points. First-year coach P.J. Adams, a former assistant at TJ, said a factor in winning close games has been strength and conditioning implemented by coach Steve Miller.
"City schools don't always have the greatest numbers," said Adams. "We became fatigued in the third and fourth quarters. So … all summer we worked on being in condition."

Jackson has run for 1,067 yards and 12 touchdowns in six games. Wilson-Bradley started the season at wide receiver. He moved to quarterback after the fourth game and has helped take some of the pressure off Jackson with 562 yards rushing and five touchdowns.
"He's a dual threat," said Adams. "We saw he could make the zone-read game look a lot better. He's very versatile and as much as people key on the run, we still have some pretty good weapons on the outside who can spread the defense out. We've gotten some really big plays from wide receivers Tyquon Wilson and Anton Wade."
Adams said the offensive line has progressed, led by tackle Robert Tonton-Artis and center Pope Bland.
"People think we're pulling upsets every week," Adams said. "We expected to be in this situation, the coaching staff and the kids."
​tpearrell@timesdispatch.com (804) 649-6965
Do You Know? (Or maybe we should ask, "Do You Remember," or "Do You Understand?")
If you are under 55, you simply won't understand.

This one is still around
Did You Know?...

TJHS CADET CORPS 75th REUNION


Saturday, September 23, 2017

Thomas Jefferson High School. Welcome back!
9:00 – 10:00 AM: Socialize with classmates; browse annuals in halls of old TJ.
10:00 -11:30: Move to auditorium where we will "Walk Down Memory Lane" with Alfred Lehman, "the very first" First Captain, 1942
TJHS Cadet Corps Alumni Band Concert. Sit back and enjoy patriotic music & military marches. "Jeffersonian" will bring back memories of pep rallies, football games & parades.
Noon – 2:00 PM: Catered Lunch by Champagne Taste[MP1] in school cafeteria. Just like good old school days!
Menu includes: Classic Meat Loaf with gravy, Duchess Mashed Potatoes, Green Beans, Succotash & Huntington Salad. Rolls, Butter, Apple Cobbler. Tea & Water.
Cost: $25.00 per person.........Please consider becoming a benefactor by making an additional donation (see details below).
RSVP: No later than July 9, 2017.........Make check payable to: Clyde Parsons
Mail to: Clyde Parsons, 4517 Schaum Court, Glen Allen, VA 23060
Call Clyde for info: 804.270.9606
IMPORTANT: Please include following with your check:
Name of Attendee(s):_____________________ Cadet Company & Year of Graduation:______________.
Suggested levels of giving (circle one): $25 Bronze...$50 Silver...$100 Gold...$200 Platinum...$300 Diamond
... Or Other $
Any amount will be greatly appreciated. Contributors will be recognized in our program.
See you at the 75th!
Did You Know?.

.. Tom Grizzard sent in this photo from back in the day. It was in the Richmond Times Dispatch and appears to be (L to R) Jimmy Rogers, Tyler Eanes, Hunter Sims and Mike Kuper on the steps on the left as our first African American classmates ascended the front steps when schools integrated for the first time. Tom was amazed this photo actually popped up so quickly after all these years. He remembered the scene since he was standing just to the left of the group of four guys talking...he says to be sure to check out the chinos, white socks and weejuns...oh, the sublime coolness of such apparel. See picture just below.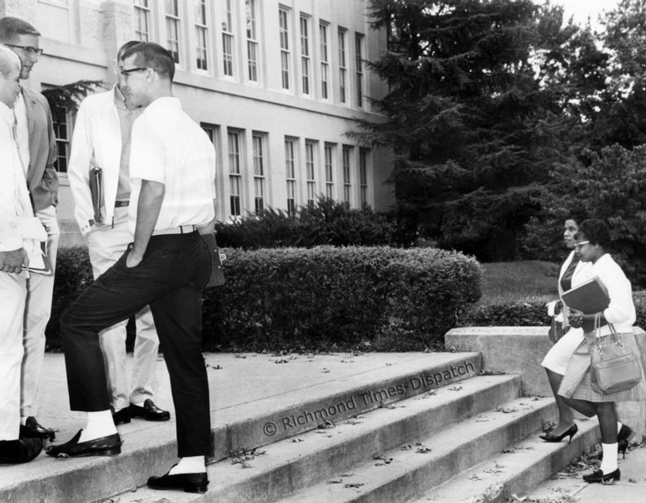 Did You Know?...the baseball scoreboard is up! See the photo below Dave Satterfield snapped. The coach would love to some '64 alumni at the first home game on Tuesday, March 14th at 4:15 pm...they want to recognize our gift to the school -- wear a red hat!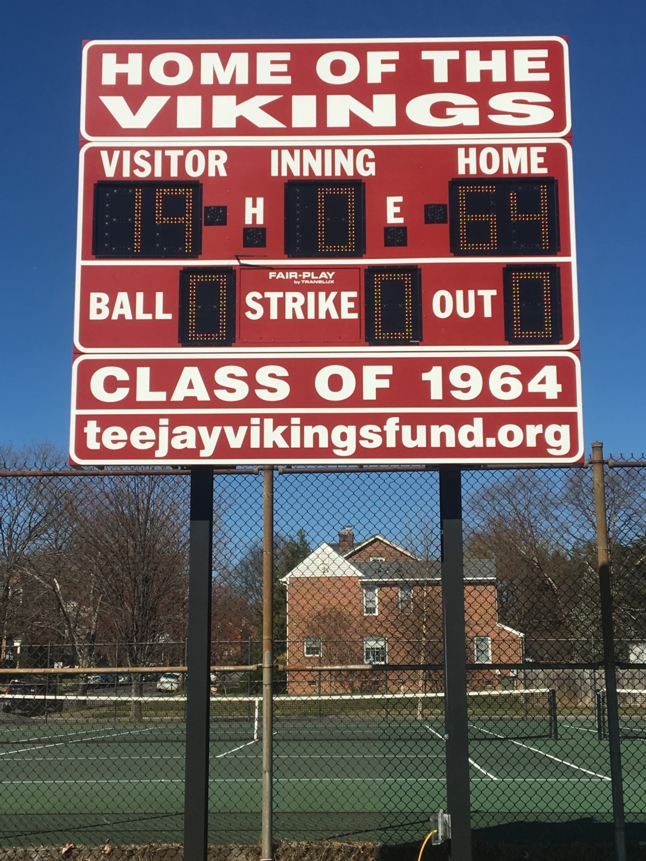 Did You Know?... Here's one of the two most recent articles about Russell Flammia's work for our school....more to come shortly. Thanks to Beth Prillaman Witt for scanning the article from the newspaper.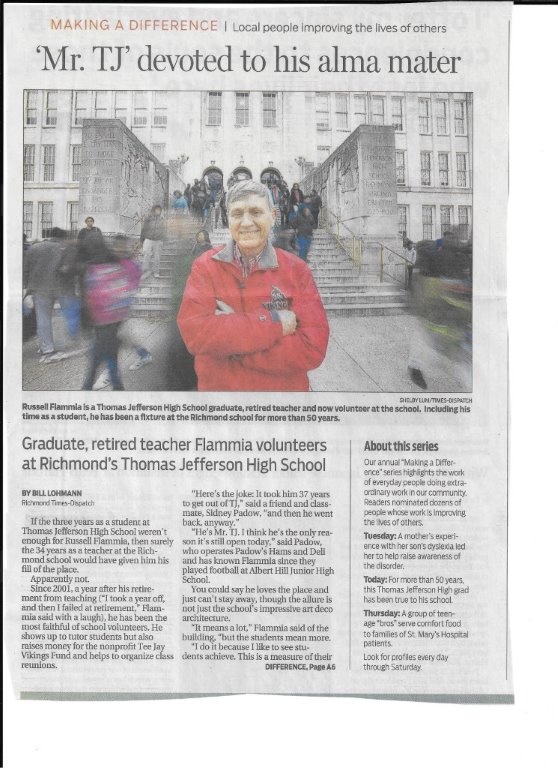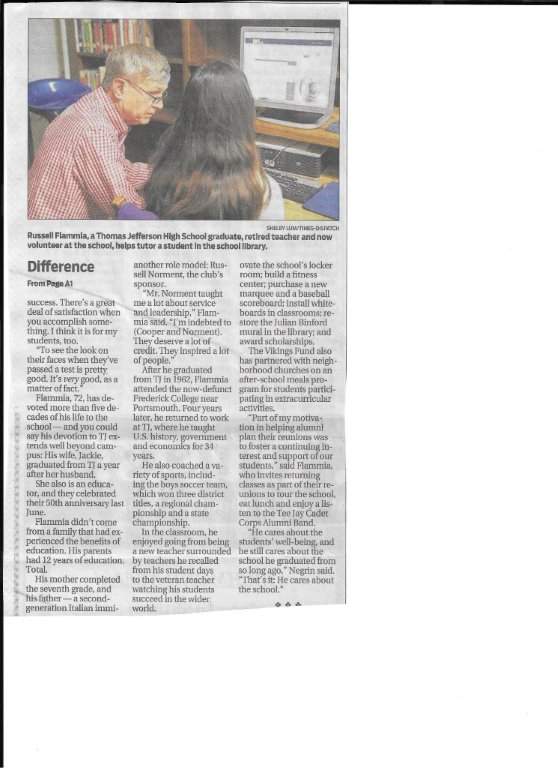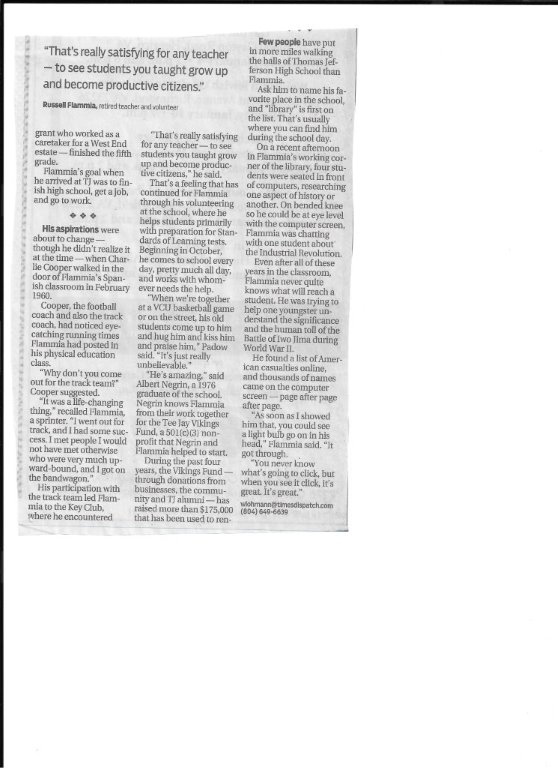 Did You Know?... Blue Shingles ring a bell? Go to this link for whatever became of Blue Shingles? http://theshockoeexaminer.blogspot.com/2015/09/the-last-gasp-of-blue-shingles.html
Did You Know?...about the great work our Tee Jay Markel Brothers, Tony and Gary, are doing for the world? Well make yourself feel good and read about their extraordinary work in this July 18, 2016 article in the Richmond Times Dispatch by going to the link below in blue:
http://www.richmond.com/news/virginia/article_e8c0c7c6-3fd3-580c-8ec1-2aa419db8564.html
Did You Know?...we still get together for lunch every month on the second Thursday at 1:00 pm at Padows (FYI: Owner, Sydney Padow is a Class of 1962 Tee Jay graduate and treats us real good.) Come anytime you can and join us...it's a lot of fun. On June 9th, Tom Grizzard drove down from Northern Virginia and joined us for lunch...his cousin, Roy Grizzard and friend Les Schrieber and his lovely wife also joined us for a lively get together. Photo shows all but Ed Butterworth who had just left us.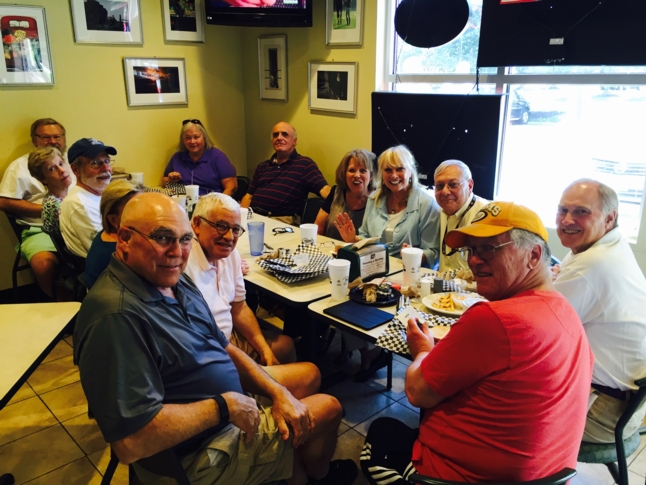 Did You Know?...the bouncer of Tantilla Gardens just passed away. Read about this interesting man at the following link by clicking on the words Red Riddell here in blue.
Did You Know?... one of our own has just gotten her nose pierced in celebration of making it to 70 years and climbing! Betcha can't guess who it is!!! Go ahead, try...First person who gets it right, I'll let everyone know how clever you are and I'll paste a snap I took while our mystery classmate gritted her teeth and demonstrated awesome courage while she let them bore into her schnoz.
Did You Know?...that the new Tee Jay baseball scoreboard ordered as of the week of Novemeber 7, 2015, is now in its installation phase as of June 2016. Soil samples were being taken in early April 2016 and other prerequisites completed so we're moving ahead with the actual erection. Give yourself a pat on the back cause the Class of 1964 helped make it all happen!! Click on the link BASEBALL SCOREBOARD to see what it will look like.
Did You Know? ...the words to our Tee Jay '64 Jr. Stunt Night skit that used tv guest host Jerry Lewis' Summer 1962 "Memory Game" adaptation of The Twelve Days of Christmas when they were looking for a host replacement for retired Jack Parr on the Tonight Show (plus a few other brilliant literary additions from some of our classmates perhaps)? Here's what we got so far, compliments of Fred Antonelli. The link below was just a serendipitous moment last year at one of our reunion committee meetings when we were trying to figure out the words and had several senior moments...
One hen, Two ducks, Three squawking geese, Four Limerick oysters, Five corpulent porpoises, Six pairs of Don Elverzo's tweezers, Seven thousand Macedonians in full battle array, Eight brass monkeys from the anicent, sacred crypts of Egypt, Nine apathetic, diabetic old men on roller skates with a market propensity toward procrastination and sloth, Ten lyrical, spherical,querical denizens of the deep who haul, stall, and crawl around the quo and quay with a quivy -- all at the same time...11....12....? Was there an eleven and twelve?
https://www.youtube.com/watch?v=2M8ogUBo5hg
Did You Know?...Mrs. Woodson's 1st Grade Class at Westhampton Elementary School. Can you name all the kids in the photo? Do you remember the set of twins? Thanks to Dave Riley and Fred Antonelli for the photo.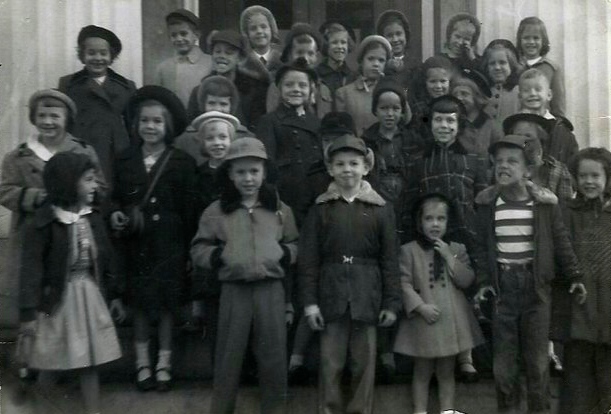 Did You Know? ...Current Tee Jay football team is making the news again. Read all about the good stuff they are doing when they take their helmets off by clicking on the link below:
LINK TO ARTICLE ABOUT TEEJAY 2015-16 FOOTBALL TEAM
Did You Know?... that our very own John Henley is an established photographer in RVA and that he has just released a modestly priced coffee table type book titled "Richmond Virginia"? John's photographic portrait is available at The Book People here in Richmond. His photos are wonderful and the text commentary by co-author, David Neale, is equally superb. Below is a snapshot by your website administrator of the cover of John's new book.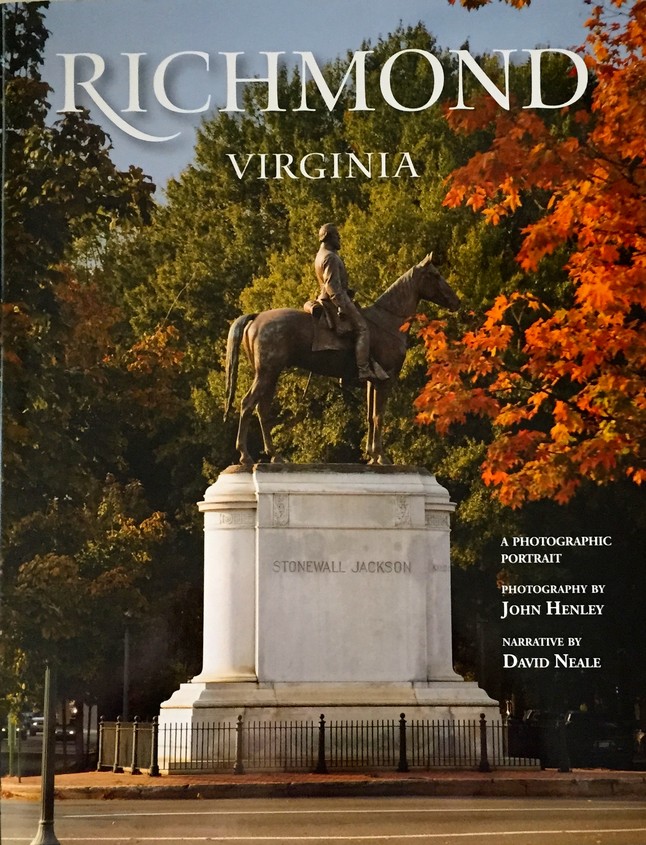 Did You Know? ...about our receiving our own Tee Jay flag in 1963? Here's a photo of Mr. Brock with TJ cadet John Gardner and two other cadets in the background looking on. Do you know who these two cadets are in the background? First one of you who sends us the right answers may get a prize, notoriety, or both.
News Flash: We have a winner of our TJ Trivia Contest about who the guys are behind Cadet Colonel John Gardner, the senior student cadet corps commander in the photo below: Congratulations to GARDNER VAUGHAN JONES!! He has correctly identified the young man behind on the left in the photo as Cadet Major Wayne Stith standing behind Mr. Brock (also a Brigadier General in the U.S. Army Reserve), and beside Wayne is 1st Lt. Douglas H. Mosley, Jr, US Army Senior ROTC instructor and Commandant of the TJ Cadet Corps.
Did You Know?... there's now an outside support organization for TeeJay? It's an independent, not-for-profit (so your contributions are tax deductible! ) organization made up of alumni from different classes and other partners outside the school who want to help the school...it's called The Tee Jay Viking Fund. Their mission is to help the school in a myriad of ways like football program, new scoreboards and marquee and more. You can help them help the school in ways the government apparently cannot.
Did You Know...the latest about the mural? The mural in the library (you know, the one with Thomas Jefferson in it) has recently been restored. Click on following link to view a slide presentation about the renovation project -- "Mural_Renovation_Project(2).pptx" . Read more about this renovation project in the recent RTD newspaper article in the link in blue...newspaper article.
Did you know...? Many TJ alumni gave their lives while serving their country. Several alumn, Bill Stratton and Dave Straus, put together a powerpoint slide presention on Youtube that honors each alumnus who passed away while serving in WWII, the Korean and/or the Vietnam Wars. Click the link below to view this touching presentation.
https://www.youtube.com/watch?v=wokaal3mfXU
Did you know...? We have lunch together each month, second Thursdays @ 1:00 PM, PADOW'S ON COX ROAD IN RVA? JOIN US IF YOU'RE EVER IN TOWN!!!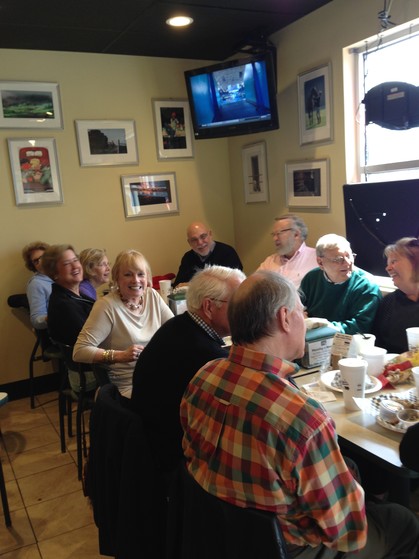 APRIL 2015 LUNCH WITH TOMMY GRIZZARD (IN BACK, FAR RIGHT), BOBBY BUERLEIN, TOM
STEPHEN, VIRGINIA CALDWELL, BOB GRAHAM, ED BUTTERWORTH, SALLY FELVEY,
PAT LIVESAY, BETH PRILLAMAN, AND MARGARET SNEAD.
Did you know...?
...that over this past weekend (April 17-19, 2015) several ladies from the Class of 1964 got wind of a few girls at TJ who were not able to attend their senior prom coming up next weekend. They weren't able to go because they just didn't have the money for either a dress, shoes, or both. Our TJ'64 ladies checked out the situation and began to pass the word around...almost immediately donations came in to help these girls out. Enough money was raised to meet all of their prom needs. Mrs. LaToya Branch is the TJ faculty, Director of Community In-Services, in charge of the community/student needs and it was through her that we were able to ensure the money went to the right people at the right time for the right thing...Our class continues to be the greatest!!! With the excess money collected a scholarship fund has been set up to help individual students in the future who have decent grades and specific needs...more to come about this so stay tuned.
Did you know...?
...that classmate Tom Stephen just received this cool award about the same time as our reunion? Check out this photo of him and his award that was in the Richmond paper.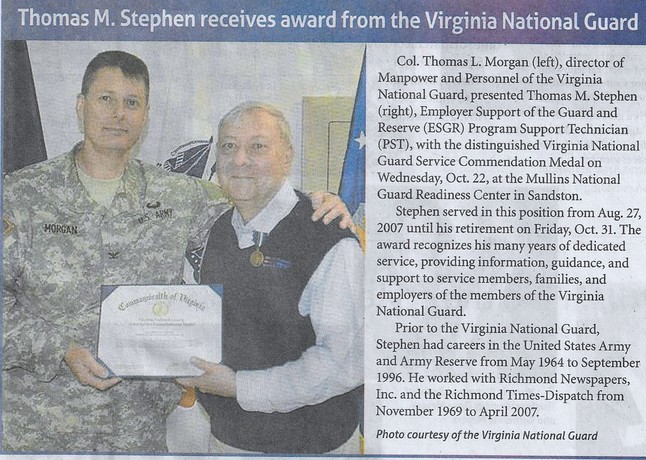 Did you know...?
...that some TeeJay women in 1963 (sometimes sororities of them!) went to Virginia Beach to have fun? Check out these two photos and see if you can find, in no particular order just to make it more challenging, from our class: Beverly Moore, Susan Smith, Virginia Caldwell, Betty Lee Davis, Peaches Noe, Mark Probst, Ann Sims,, Kathy Paul, Judy Tower, Susan Lewis, Susan Tarrant, Beth Prillaman, Linda Charnock, Margaret Hutcheson,, Kay Hazelgrove, Jackie Deane, Penny Wheatcroft; and from the Class of '65: Emily Green '65, Linda Morris '65, Bobbie Jean Packer '65, Lynn Phillips '65, Cecil Campbell '65.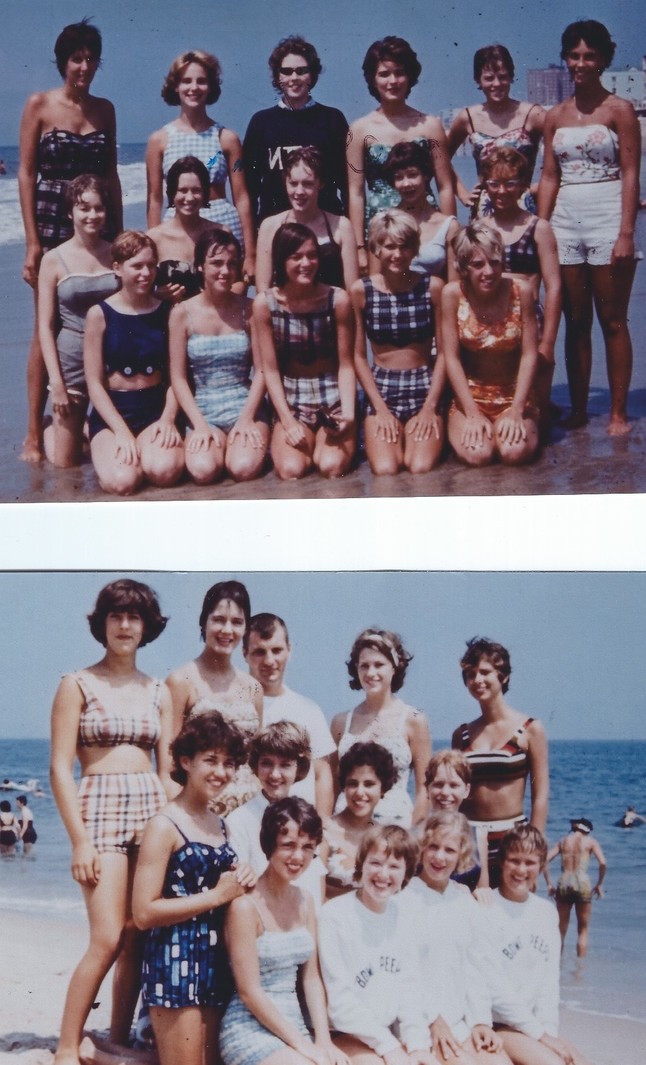 Did you know...?
...that we're actually aging! Watch this hilarious YouTube video (15 min) and have a good laugh with the rest of your classmates! To view, just click on the link in blue text just below:
//www.youtube.com/embed/LR2qZ0A8vic?rel=0
Did you know...?
...that currently, our school namesake, Thomas Jefferson, has a placque in Paris put there by some UVA alums to honor him? And one of our classmates, Wayne Satterwhite, who is currently visiting Paris, has searched and found the placque and sends us this photo of it ?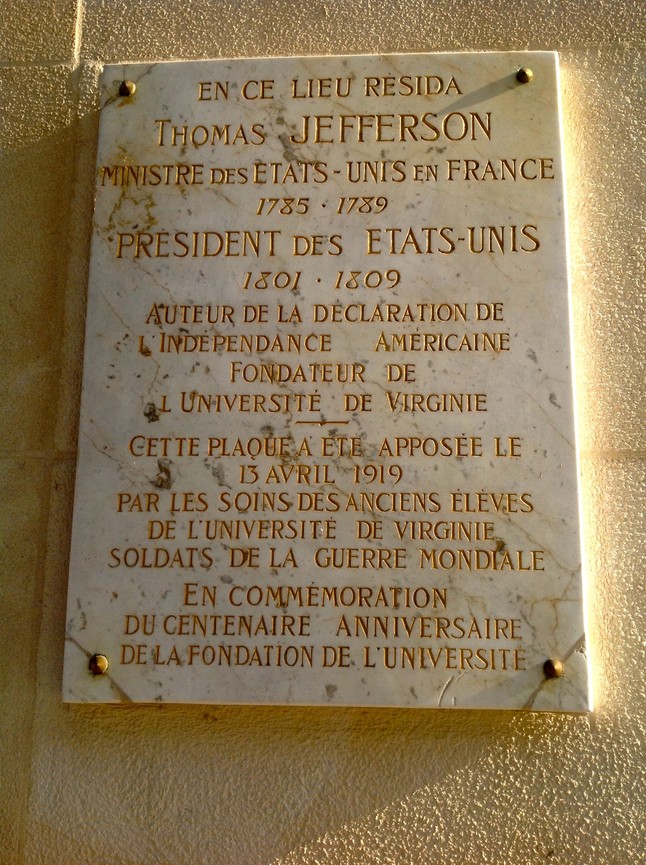 Did you know...?
...that our perceptions and experience with the music of our day was diverse? And that, in general, our 60s music was also both individually life-changing and historically culturally defining? One story written by a student in 1964 is pretty illuminating. His life was altered by the music of our day. To read this story, either Google up Steve Buckingham Music and go to his document titled "My Story,"
or...
...just click on the blue live link here below to read it!

http://www.stevebuckinghammusic.com/docs/SB-MYSTORY.pdf
Did you know...?
...that our TeeJay's Richmond today is a far cry from the 1964 version in which we spent our teens? Below is a pretty good YouTube rap video about Richmond that was sent in to us from classmate Fred Antonelli. It offers a pretty cool glimpse of Richmond, or "RVA," as it is referred to today.
Did you know...?
...that our TeeJay was a good deal more, both then and now, than a pretty good academic institution? Go to the following link and learn some cool stuff at http://web.richmond.k12.va.us/tjhs/About/History.aspx.
Did you know...?
..that our Tee Jay was an Art Deco building? And that it remains a public high school today and was constructed in 1929 and opened in 1930?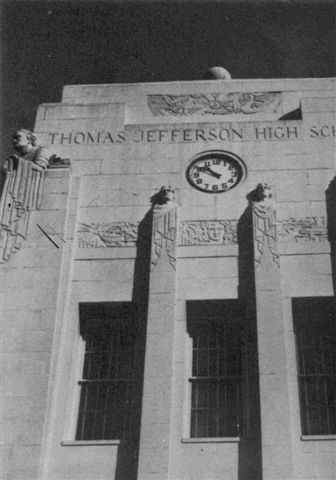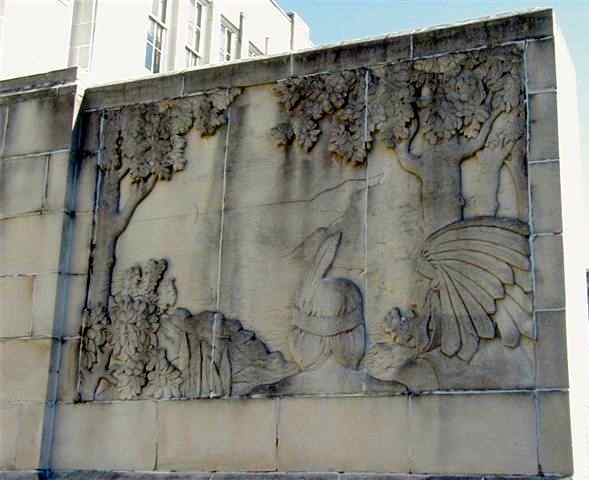 Did you know...?
...that our school was listed on the U.S. National Register of Historic Places?
...that Tee Jay was designed by architect Charles M. Robinson1 and in a book by Calder Loth, "The Virginia Landmarks Register," he refers to the school as Robinson's "masterpiece" and notes that the structure is "a celebration of education, a bulding redolent of civic pride."3
References:
1. "National Register Information System". National Register of Historic Places. National Park Service. 2009-03-13.
2."Virginia Landmarks Register". Virginia Department of Historic Resources. Retrieved 19 March 2013.
3. Calder Loth, Virginia Department of Historic Resources (1999). The Virginia landmarks register.
University Press of Virginia, p 444. -- Wikipedia
Did you know...?
...that a few years after we graduated, TeeJay was the site for a movie production of a small film that eventually stirred quite a bit of controversy and embarassment? Ask Bobby Buerlein if you want to know more...

Did you know...?
...that one of our schoolmates from TJ class of '65, a professor of education at the University of Virginia, actually wrote a book about TeeJay? The book is titled "The School That Refused to Die?" Do you know the author's name?
Did you know...?
...that favorites Bills Barbecue and Shoney's "drive-around-and- see-who's-here" sites are now closed down... that the Cokesbury Bookstore building is up for sale, and that THE Clover Room is currently no longer in the banana split biz? ...OMG! Update 6/29/14 -- Bill's is down, i.e., building demolished...but Libbie Avenue is still there!
Did you know...?
... that one of our classmates today is an accomplished pole dancer?...that another of our classmates wrote a book about his father's capture in WWII?...that one person from our class lives in Israel? ...that some people in our class are still waiting for Melvin Soloman's musical "Evangeline" to run on Broadway?...
Did you know...?
...that the boyhood home of our school namesake, Thomas Jefferson, was in Richmond? That's right; he grew up just down the road from us (River Road to be exact). Today it's a lovely working "estate" called Tuckahoe Plantationn and you can tour the wonderful gardens overlooking the James River and take in its really good "vibe." I love that you're asked simply to put $5.00 in the little wooden, on your honor donation box at the entrance way to the property. The estate is privately owned and a real gem indeed. Interior home tours are by appointment.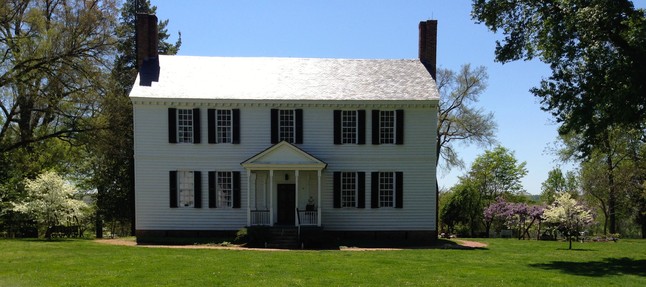 Tuckahoe Plantation, Thomas Jefferson's Boyhood Home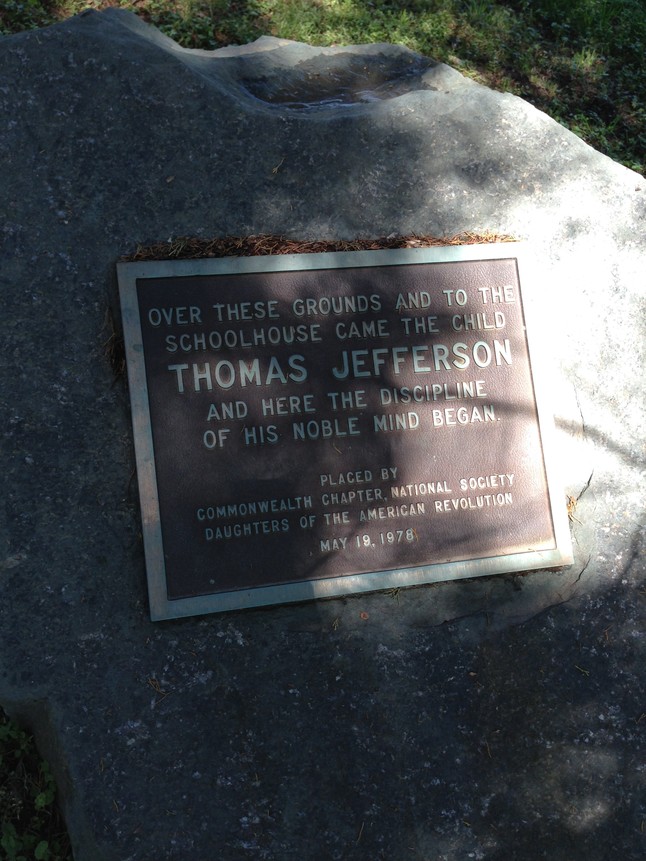 On a rock at Tuckahoe Plantation
Did you know...?
...that one of our classmates is an expert duck decoy carver, another is a blacksmith, and still another classmate won two (that's correct, TWO) Academy Awards and one Academy Award Nomination?
Did you know...?
...the story about Randy Rocchiccioli's first car? Here it is as recently recounted by "class detective" and TeeJay pal of Randy's, Irv Green: Randy's first car was a 1947 Ford coupe. He had just proudly installed new carpet and cleaned it all up. (That in itself was a big deal to most of us at that time.) Anyway, one evening Randy was going on a date with a girl classmate and, before he left, his father came home from work and was looking in the car. He asked, "What's with the cardboard box on the floor?" Randy replied, "That's for my date's feet." Mr. Rocchiccioli laughed and wisely advised, "Ok. Now you need to put a cardboard box in the seat for her to put her butt in." Randy removed the box.
Did you know...?
...that one of our classmates was legendary in the world of cheerleading? That's right, cheerleading. This person was voted "One of the Most Influential People in the All Star Cheerleading World" by American Cheerleading Magzaine and Cheerleading Biz magazine. She founded "The Cheer Factory."
Did you know...?
...that one of our classmates sits on the Virginia House of Delegates? Another has lived in foreign countries all over the world, adopted four international children and recently returned to Richmond to live?
Do you know...?
...the story behind our school nickname, "The Vikings" ?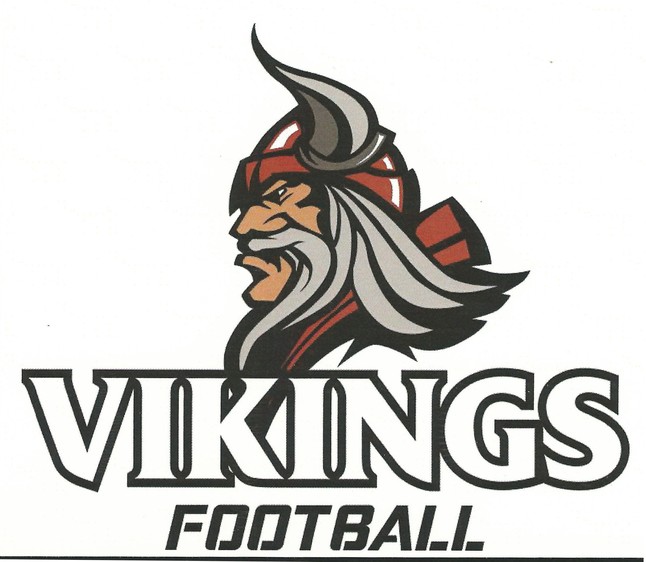 Do you know...?
...to which one of our TJ'64 classmates do these vintage 1964 Weejuns belong?