Thomas Jefferson High School


Class of 1964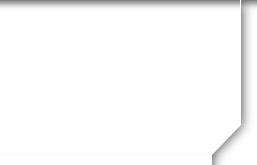 TEE JAY SCHOLARSHIP FUND
2019 Class of 1964 Alumni Scholarship Award Success!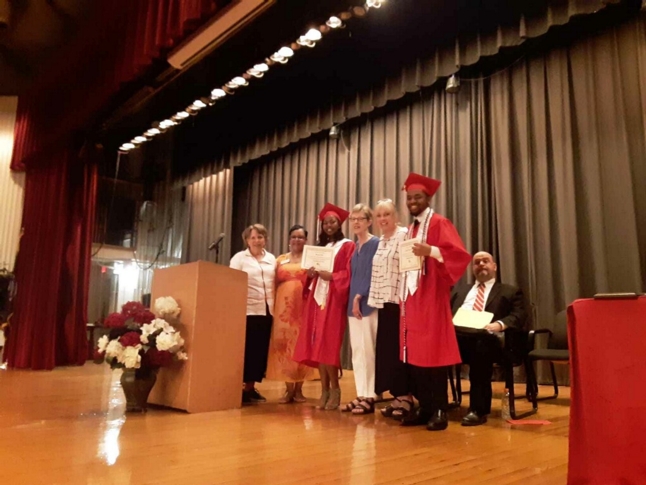 L to R: Virginia Caldwell Stone, Mrs. Oxendine, Mya Fife (Recipient), Bett Prillaman Witt, Sally Felvey Guynn, David Royal, Recipient.
Details: TJ Class of 1964 Scholarship Awards Presented on June 5, 2019
CONGRATULATIONS to David Royal, IV, and Mya Fife, Tee Jay seniors who each re-ceived recognition and individual $2,500 scholarships from the Class of 1964 during the TJ Seniors Awards Ceremony on Wednesday, June 5, 2019.
David will attend Virginia State University in the Fall. As a TJ student, he was very active in support of the school basketball team through various fund-raising efforts. In community activities, he actively participated in the Northside YMCA as the Leaders Club Coordinator on their Executive Board. With strong academic credentials, David consistenly demonstrated his ability to multi-task and communicate well with others.
Mya will atend James Madison University this Fall. Her exceptional academic achievements at TJ include a 4.75 grade point average (ranking second in her class, significant support to the Communities in Schools Program, volunteering at the Children's Museum of Richmond, active leadership as an SCA member (current Vice President), and Clarinet Section Leader of TJ's Marching Band. Well liked by her classmates and teachers, Mya has an engaging personality and a strong ethic.
The TJ Class of 1964 extends warm wishes to both David and Mya as they pursue their future studies.
c
NEWS FLASH ---- Another Whopping Success for our Class '64 Tee Jay Scholarship Award Effort in 2018!
Details: TJ Class of 1964 Scholarship Award in 2018
CONGRATULATIONS to Tamaja Terry, this year's recipient of the TJ Class of 1964 Scholarship award and congratulations as well to all our '64 classmates who sent in contributions to make this endeavor a great success!
Here's a little background material on Tamaja who will be entering Longwood University in the fall.
Tamaja is planning to pursue a career in law, and he has a long list of academic accomplishments as well as an impressive amount of volunteer service to the community and to Thomas Jefferson High School.
He served as an intern for Delegate J. Bourne at the Commonwealth's General Assembly, volunteered as the Vice President of the Youth Usher Board for Richmond and Vicinity, and worked for the Department of Motor Vehicles. Other activities included his participation in Mike Herring's Mentoring program in 2018, service as a Student School Board representative, and an appointment as President of the TJ Principal's Advisory Council in 2018.
While maintaining his status on both the Honor Roll and Scholar Roll, Tamaja demonstrated exceptional skills in public speaking, strategic thinking and diplomatic engagement with his peers.
The Class of 1964 is pleased to present a $2,500 scholarship to this fine young man and wishes him every success as he continues his educational journey.
Well done, Mr. Terry!D
---
etail
2018 Class of 1964 Alumni Scholarship Award Now Underway
As we have done for the past three years, we are now again accepting checks until May 15, 2018, from classmates who want to help us raise money to give a $2500 college scholarship for a deserving graduating senior. Our class first funded a $750 scholarship in 2015, a $2,064 award in 2016 and in 2017 a $2,000 scholarship. With the assistance of Mrs. Talaya Oxendine, Tee Jay's Site Coordinator for Communities in Schools, our Scholarship Committee will continue to select a deserving Tee Jay student based upon:
Financial Need Ÿ In-School Activities

Academic Achievement Ÿ Community Service
Again, our class alumni association is partnering with the 501©3 Tee Jay Vikings Fund (TJVF), allowing your scholarship fund donations to be tax deductible!
To Contribute to Our 2018 Class of 1964 Scholarship Fund:
(1) Make your contribution check payable to:
Tee Jay Vikings Fund
(2) Write on the Check's Memo Line,
"Class of 1964 Alumni Scholarship"
(3) Mail your tax deductible scholarship donation to:
Virginia Caldwell Stone, 300 North Ridge Road, Unit #15,
Richmond, Virginia 23229
Virginia will deliver the checks to the TJVF and write thank you notes to each donor. In May, the TJVF will generate a check payable to the college or university chosen by the scholarship recipient and include the recipient's name on the check as well.
Your help is needed to let our '64 classmates know about this opportunity to help a student in a profound way. Remember, donations are now tax-deductible!
---
---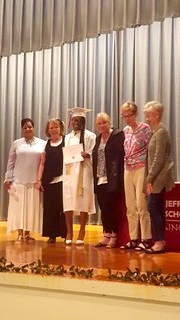 Photo on Tee Jay stage shows L to R: Community Liason, Mrs. Oxendine, Virginia Caldwell Stone, Scholarship Chair, Recipient, Al'Brionna Curry, Sally Felvey Guynn, Beth Prillaman Witt, and Jackie Deane
As we have done for the past two years, our class raised money from our alumni and presented a $2,000 scholarship to a graduating senior this past Thursday, May 25th, at Tee Jay's annual Awards Assembly. Our scholarship recipient this year is Al'Brionna Curry who was most grateful and exceedingly happy!
News Flash: Our last year's recipient, Natasha Coleman, has earned
a full scholarship from The University of Virginia for her
outstanding work as a freshman there!!! Yippppeeeee!
Scholarship Project History:
Our class first funded a $750 scholarship in 2015, followed by a $2,064 award in 2016. We exceeded our clever $1964 goal in 2017 and were able to write the check for $2,000!

NEW t

his year

i

s we can now contribute by using our credit card online at the www.teejayvikingsfund.com website. Just follow the directions on their website and make sure to make your deposit (just like you would if using a check) payable to the

"Tee Jay Vikings Fund"

and then earmark on memo

"TJ Class 1964 Scholarship Fund."

We are most grateful to the Tee Jay Vikings Fund for allowing us to partner with them.
With the assistance of Mrs. Talaya Oxendine, the school's Site Coordinator for Communities in Schools, our Scholarship Committee will continue to select a deserving student based upon:
Financial Need

Academic Achievement

In School Activities

Community Service
HOW TO CONTRIBUTE:
Anytime, If you are interested and can help, please make your tax deductible check payable to "Tee Jay Vikings Fund" and (this is very important) please earmark your check on the memo line "Class of 1964 Scholarship ", then mail to:Virginia Caldwell Stone, Scholarship Chair, 300 N. Ridge Rd, #15, Richmond, VA 23229. Her number is 804.282.7871 if you have any questions.
"From one extraordinary public high school, one extraordinary class of students in 1964, now alumni, choose to invest in the future together by facilitating one graduating student each year they trust will make a difference."
We truly still have an exceptional class.
*****************************************************************************************************************************
Details of Our Scholarship Recipent for 2016: NATASHA COLEMAN
Click on this link to read about Natasha from a recent news release from Richmond Public Schools.
We chose a female student who both the school counselor and the inservice community director highly recommendced for the scholarship. Natasha Coleman is the validictorian of her 2016 graduating class, was accepted at both James Madison Univeristy and the University of Virginia and plans to attend UVA in September 2016.
In addition to her work-study grant, Natasha has several scholarships to cover tuition, but she needs her lodging, books, and other expenses covered. Natasha is from a single mother family with a disabled older sister. Her mother works full time and Natasha tutors children in reading and writing and since the 8th grade has worked as a camp counselor with "Chat," a camp for underprivileged children sponsored by the Mayor's Office. She created an innovative program at the school to help students increase their health and welness by her bringing in speakers with particular expertise on topics such as nutrition, teen pregnancy, and emotional wellness, among others. Natasha wants to become a nurse practitioner.
Only three alumni classes from Tee Jay award any type of scholarship at all. At this writing, we appear to be the only class providing scholarships to students who have demonstrated achievement in community service, academics, and leadership AND who have legitimate financial needs. The talk in the halls is "the class of '64 is the class that cares."
The photo is of all the valedictorians from the Richmond Public Schools this year. Natasha is the tall, attractive young lady third one from the left.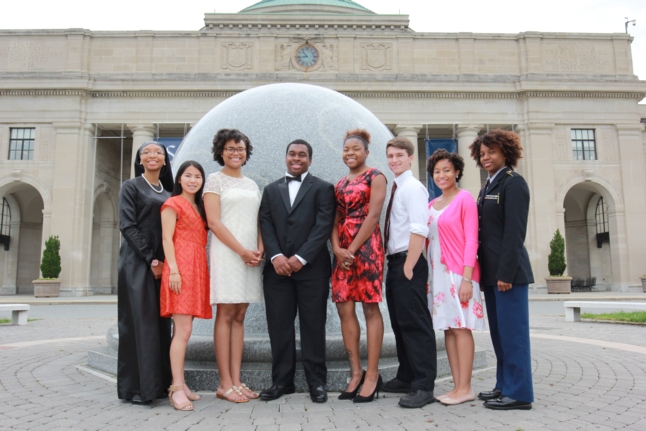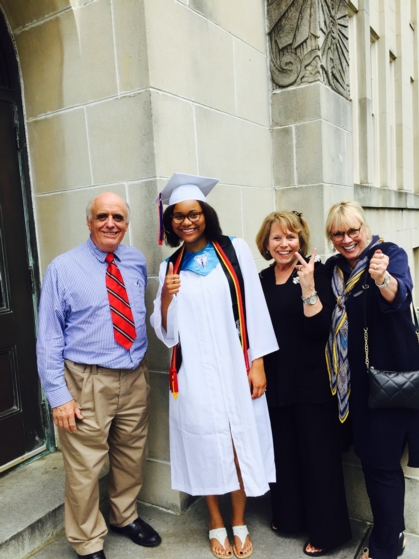 You did it!! We reached our goal! Contributions from our classmates of 1964 enabled us to award a $2,064 scholarship to Natasha Coleman at the Tee Jay Awards Assembly Friday, June 3rd! Scholarship Chair, Virginia Caldwell Stone, along with Sally Felvey Guynn and Dave Satterfield made the presentation on behalf of our class and we took some photos and a little video interview with her for you to see.